Specialty Pistols
What knife brand do you prefer? Type?
March 29, 2010, 11:11 AM
Hillbilly
What knife brand do you prefer? Type?
I have a couple older Kershaw and Gerber lock blades, both have served me well over time. I have a Leatherman crunch and S&W M&P that I carry most of the time now, mostly the M&P with the Crunch just in the truck. I have some others for camping use and fishing/diving. I don't recall the brands off the top of my head, since I don't have them out very often.
For meat cutting and butchering, I am a Forscher fan #1, with Dexter Russell #2. These are the brands my family has been using for meat processing for years, and do a great job.
In the kitchen, we have Wustof, nicer Henckels, a few Forscher knives, and a few Japanese style knives (cannot recall brand).
March 29, 2010, 11:16 AM
KYODE
for everyday carry....i have the CHEAP of cheap...."Rough Rider". don't care where it was made, or who made it. $7-$9 into it....n it works fine n sharpens easily. loose it....who cares. break it....big deal.
for "good" knives....i like a case, or one of the german knives. i just don't need a good knife. i just want to open a can of snuff, scrape sumpin off, or cut sumpin apart.
i prefer small models for pocket carry.
for hunting....my old timer with gut hook can't be beat.


------------------------
~Kentucky....there is no place i'd rather be~

Join the NRA
March 29, 2010, 12:23 PM
Tommy
quote:

For meat cutting and butchering, I am a Forscher fan #1
As a retired Federal Meat Inspector I second this.


---------------------------------
When you judge another, you do not define them, you define yourself. By Dr. Wayne W. Dyer


March 29, 2010, 12:30 PM
Josh
My main field dressing and skinning knife is a buck skinner..dont remember the modle number. Ive got a CRKT(Columbia River Knife and Tool) Anubis that is an awesome knife..only used it once on game.
Josh
March 29, 2010, 01:35 PM
Luckydawg13
puma and benchmade then buck & gerber


------------------------------
Kids that Hunt and Fish Dont Mug Old Ladies
March 30, 2010, 06:09 PM
cstrunk
My favorite folder, for every day carry = CRKT M16-Zytel (1st picked this one up for carry while still in the Army National Guard, nearly 5yrs ago)
A new favorite = Boker Top Lock (automatic) with 2-3/4" drop point blade.
if you like these make sure to buy the original made in Germany, not the cheap nock offs.
C.


------------------------------
Aim small miss small
March 31, 2010, 09:12 PM
Dave D.
I like them all, except the cheap junk. Have over 200 knifes that I've collected over the years, a little of everything. More Case than any other. I have several brands, Case (several over 40yrs old), Tree Brand (especially the German Bokers) Kissing Krane, German Eye, Fighting Roosters, and more. A couple my favorite styles would be Canoes and Sod Busters. My favorite hunting knife is a case I purchased in 1974 for $17.00 and been on ever deer hunt since.
My first custom hunter is on order now from Dave Pitt. Even let me help design it. The grips will be matched to a Tender grip set I made. Cant wait to see this one!!


Dave Dolin (Dave D.)
Contact poppygrips@yahoo.com
Best Little Grip Shop in West Virginia
Crafter of Custom Hand Made TC Grips and Forearms.

March 31, 2010, 09:37 PM
Knife Handler
quote:

For meat cutting and butchering, I am a Forscher fan #1
As a retired Federal Meat Inspector I second this.[/QUOTE]
With over 35 years in the meat industry, I have to go with this. I do carry a S&W folder on me at all times. I also have a couple Case, Gerber, Victorinox, Spyderco and a few others that I take out in the field.


Val

NRA Life Member
IHMSA Life Member
NAHC Life Member

Impossible is just a degree of difficulty
June 09, 2010, 12:23 AM
HandCanonShootr
For me the Sebenza by Chris Reeve is my perfect daily carry, currently a small damascus version, a leatherman is also never far away.
Mike B


----------------------------
Everything in excess!
To enjoy the flavor of life, take big bites.
Moderation is for monks.

-Lazarus Long


To Ride, Shoot Straight, and Speak the Truth—
This was the ancient Law of Youth.
Old times are past, Old days are done:
But the Law runs True, O Little Son!

-Charles T. Davis

June 09, 2010, 11:41 PM
John Monroe
For daily carry an Uncle Henry Stockman that I mispplaced last week. If I'm going somewhere interesting I add a CRKT M16 to the mix. For game the old Sharpfingers are hard to beat.


------------------------------
John A. Monroe




June 10, 2010, 09:36 PM
FyrepowrX
daily carry is whatever i happen to see laying around when i happen to remember i need a knife in my pocket...usually a CRKT m16 half-serrated.
for hunting, last year most of the season i carried around a neat little Hess fixed blade. (The Hess family had worked at Marbles Knives for ages before Marbles went to Taiwan..then they opened their own business.)
my second most carried knives were some schrade USA made drop points called the ProHunter..i like the small PH2 a lot.


=================================

"Politics is the art of looking for trouble, finding it everywhere, diagnosing it incorrectly and applying the wrong remedies."
Groucho Marx

"No possible rapidity of fire can atone for habitual carelessness of aim with the first shot."
Theodore Roosevelt, The Wilderness Hunter, 1893
July 07, 2010, 02:02 AM
Chuck
Al Marr, either the SERT, or the SEER are my favorite, followed closely by the German Bokers.


------------------------------
Guns are awsome, guns are fun, pull the trigger and it's all done.
July 07, 2010, 04:44 AM
**BIG RYAN**
My daily carry is a 25yr old Parker..She's not as pretty as she use to be, but she still holds a darn good edge, and I can't tell you how many pigs I have Skinned and Barred with her.The knife has deff paid for itself time and again over the yrs. I don't go anywhere without her either, its always on my belt.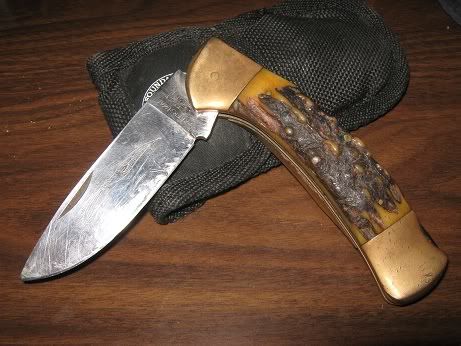 September 02, 2010, 10:06 AM
Bubbie
Spyderco wave endura, excellent fast deployment knife when you "need it now!!"
September 09, 2010, 08:24 PM
Scharms
I prefer a Randall or a Loveless but can't afford either! I'm a big fan of Cold Steel Voyager Tantos, have one in 3" & one on 4".


------------------------------
NRA Life Member / NRA Pistol Instructor

"It only stands to reason that where there's sacrifice, there's someone collecting the sacrificial offerings. Where there's service, there is someone being served. The man who speaks to you of sacrifice is speaking of slaves and masters, and intends to be the master." -Ayn Rand
September 26, 2010, 05:48 PM
Rodent
Most anything Gerber. I carry a skeleton folder in my right pocket daily and this my main gutting knife as well. I do clean it, and cut my steak at the local restaurant last night with it. It was a lot sharper that that piece of junk steak knife that they wanted me to use. When in the "Land of Sand", I carried a Gerber double edged sheath knife that I had wrapped the slender handle with para cord. I still have it, but it is too big to use for anything now.
Mike


------------------------------
Piedmont Sportsman Club
IHMSA #27115
NRA #146349408
EMT-B

October 03, 2010, 04:33 AM
257fan
daily carry: spyderco or buck
skinning and gutting: mora and/or buck
hiking and survival: ontario and fallkniven
multitool: gerber
thanks
October 12, 2010, 09:22 AM
Win1917
I don't know very much about knives but over the years the knife I've carried the most is just the basic single blade Buck lockback(?) knife in a couple different sizes. Nothing fancy and I hate serrated blades so they work well for me. I recently picked a Kershaw though and I'm starting to like it.
October 20, 2010, 02:39 PM
rickyp
My father-in-law gave me a Remington big game knife for Christmas about 10 years ago. when I first got it I didn't like it at all, it was dull and I couldn't get an edge on it. Now That I have learned how to put an edge on this knife. it is scary sharp. when I field dress the deer it cuts the skin like it wasn't there. I have cleaned more deer then I can remember with it. Now I do not go out in the field with out it.
for my every day carry I have a swiss army knife that I resharpen it is almost as sharp as the Remington. but this one doesn't keep an edge as it gets used on everything from seat belts on an accident to cutting down tree branches.
January 10, 2011, 09:12 PM
Brute
Everyday carry is a case sod buster.For skinning and dressing game my new love is the flip n zip from outdoor edge.To quote a friend of mine "that gutting blade will make you think deer have zippers".


------------------------------
Let's get the US out of the UN and the UN out of the US.