Specialty Pistols
.41 mag revolver talk at LGS leads to 1894S
October 20, 2015, 08:44 PM
kware
.41 mag revolver talk at LGS leads to 1894S
LGS sales guy is showing me a S&W 686 with 7.5" barrel & Non Fluted cylinder. I show him a picture on my phone of 2, 657's with 7.5 barrel & non fluted cylinder. He then says, "we got a Dan Wesson 41 mag last week & it didn't last long and we are expecting a Marlin in .41 mag coming in soon". Really, is it spoke for? Let me check & he goes in the back. Well, it is already here up front in an over flow room. Needless to say, its mine now.

Its not a safe queen. A couple small stock dings & one very light scratch on the receiver. I will shoot it soon.


kware
October 20, 2015, 08:57 PM
Nitemann
On the top of my list but the last 2 I've found were $1400
Congrats on a great find.
Rick
October 20, 2015, 10:16 PM
Magnum Mike
Awesome snag! I soooo understand the "need" for 41mag lever guns, I kind of got that bug too!
I had opportunities to get the 1894FG but I just couldn't warm up to the pistol grip that so many wanted. To me, pistol caliber lever guns needs straight stocks and levers, just never liked the curved lever/pistol grip nearly as much.
mike
------------------------------
JUST SAY NO To Gun Bans, JOIN Gun Owners of America

Need accessories? Looking for reloading equipment or components? Check out
January 23, 2016, 01:56 PM
RJM52
Mike...we must have been twin brothers in a previous life....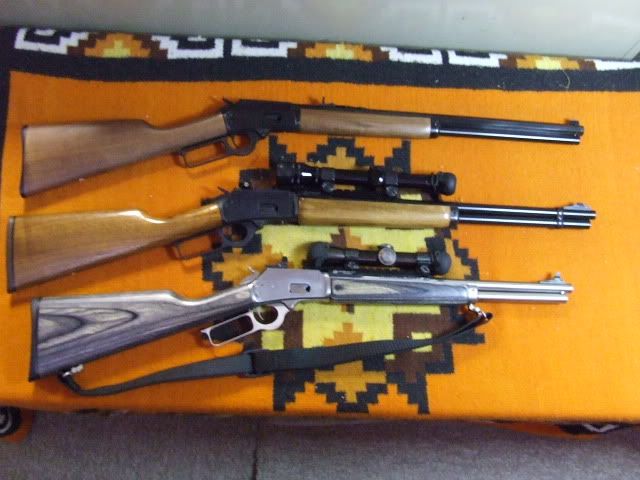 ...and I had a FG and just don't like pistol grips on leverguns....so it is gone...
Bob
January 23, 2016, 07:21 PM
Magnum Mike
Funny that we set up our SS41s the same way, almost exactly. I've not done anything with my S. Thought about scoping it but have yet to do it. I am seriously thinking about threading my SS41.
mike
------------------------------
JUST SAY NO To Gun Bans, JOIN Gun Owners of America

Need accessories? Looking for reloading equipment or components? Check out
January 23, 2016, 10:09 PM
RJM52
...don't do that!!!! A friend saw my stainless .41 and when they came out in .357 he bought one and I set it up with a LeverScout mount and M8-2X just like mine. He died last March and the rifle was put on GunBroker...$3075.00...
They made 251 of the .357s...151 of the .41s....I've seen two .41s go for over $3K...
Thread a Henry.... I wrote them today asking if the 16.5" was going to come in .41 Magnum...only the 20" is listed.
Bob
September 20, 2018, 06:53 AM
17VLD
I know this is an old post,but it still is pertinent to me,I saw a Henry carbine in 41 magnum and the little wheels started rolling in my head(slow)I feel I need a carbine to go with my revolvers.My first choice would be a Marlin,but I think the Henry might make a affordable good shooter.I also like the support I've heard of through Henry.Anybody shoot a Henry in 41,good...bad?
Matt


------------------------------
NRA BENEFACTOR MEMBER
VHA LIFE MEMBER
IBS MEMBER
September 20, 2018, 10:35 AM
Magnum Mike
Although I've resisted the temptation to buy a Henry in 41, I've read a lot about them. So far, nothing negative, all positive. Decently accurate, functions reliably, etc... If i were in the market for a 41 mag lever, I wouldn't hesitate.
mike
------------------------------
JUST SAY NO To Gun Bans, JOIN Gun Owners of America

Need accessories? Looking for reloading equipment or components? Check out
September 20, 2018, 03:01 PM
Lonegle57
Have a Henry in 41 mag. Have shot it a little, have it zeroed at 75 yards.
It doesnt like my cast load but does like the jacketed load. I focus more on handguns so it hasn't been to the range a bunch or out for some time in the woods but might get a workout this season. Has functioned fine, no problems.
September 26, 2018, 09:23 PM
ARG
I searched for years for a decent shooter grade Marlin in 41 at a non-collector price, and was not successful. I ended up with a couple carbine length barrels for the TC to hold me over, and then came the Henry announcement.
I got the first 20" and 16.5" Henry I saw. I am still looking for Marlins, but my Henry's have been awesome. First time out, with my TC load, I was able to get touching shots with a 215 cast in the 20" Henry. So far, if I do my part in loading, the Henry has exceeded my expectation. Both cycled fine, and the tube load is nice for the field. I like the balance and as a result I have hunted more with my 41 than my other levers. Henry was a big help when I wanted to switch out the lever on the 16.5" model to the other lever from the 20".
That one Henry announcement has led to a few more revolver caliber Henry's following me home, and all have been great.
September 27, 2018, 06:40 AM
17VLD
Like most of you,I for some reason have resisted the Henry and wanted a Marlin.
But I think since I am off work this Saturday the temptation will be too great and I will probably go get the Henry.I think as a shooter it will serve me fine.I am very glad Henry has chosen to help keep the .41 alive.
Matt


------------------------------
NRA BENEFACTOR MEMBER
VHA LIFE MEMBER
IBS MEMBER