Specialty Pistols
My custom savage striker and load tests
October 28, 2014, 10:08 PM
JamesnTN
My custom savage striker and load tests
Hello everyone I'm new here but not to custom guns and competitive shooting. Most of my time has been spent over on accurate shooter. I acquired this a couple months back and I've been tinkering with loads and finding I guess the way it shoots what it doesn't like as everything I've put thru it has shown remarkable results.
The gun is chambere in a 6 BR with zero FB and the barrel is a Shilen 1/13"
Here is a photos of the gun and the very first group shot out of it.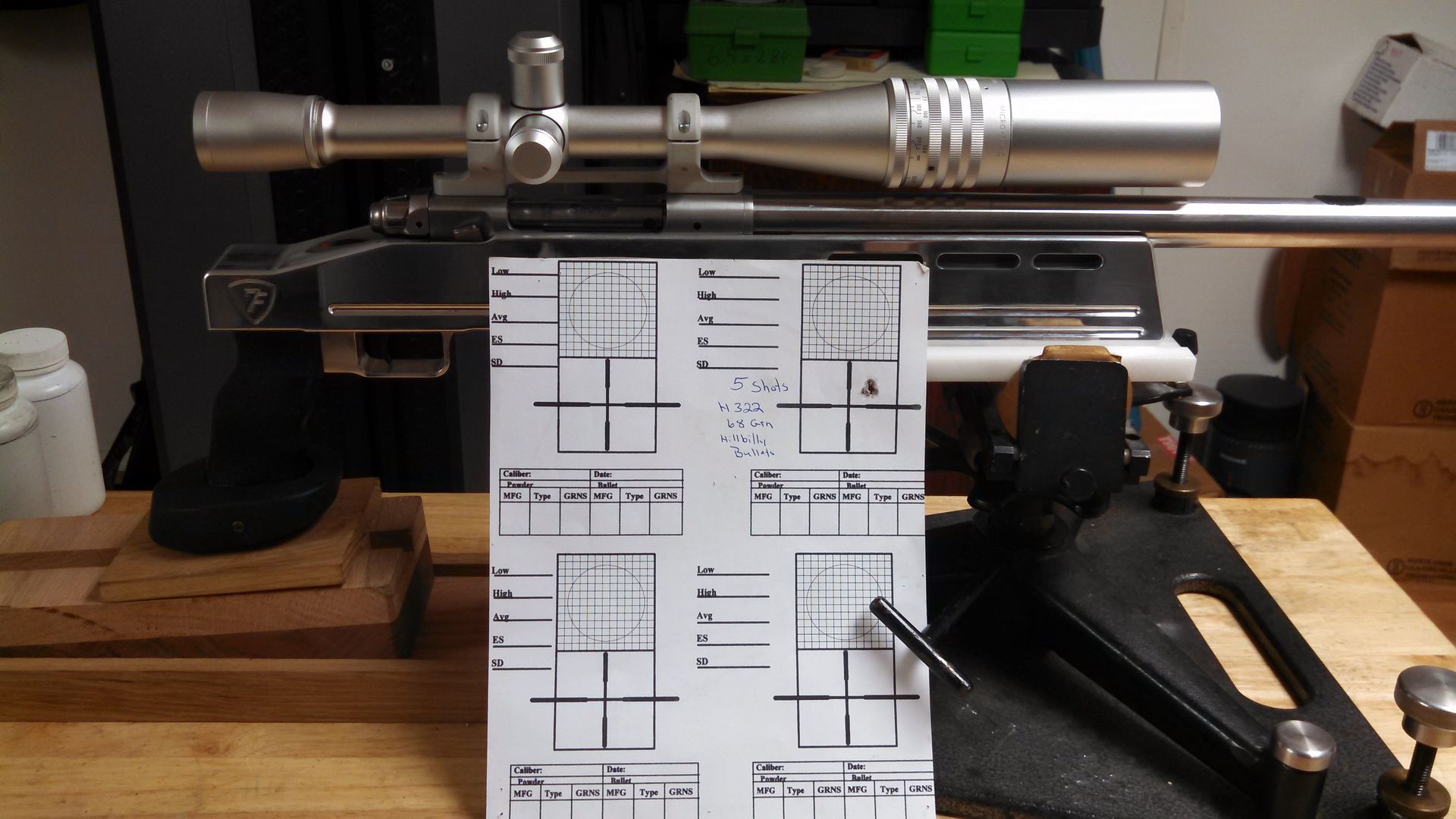 Next is some test groups with H322 I'm unsure of charge as they were thrown charges from my harrells.
Here are some test groups using LT32
Groups testing both H322 and LT32 seeing which is most consistent.
Here's a test today with 8208 bottom right target is four shots the rest are three shots. The one with arrow pointing at hole was a pulled shot by me I loaded a fourth round and fired it into the same hole as the rest of the group.
I hope you guys enjoy this is my first time at shooting pistols.
James
October 29, 2014, 09:28 AM
40xmike
James,
Welcome to SP
Very nice set-up you have there. You know how to drive it too! Gotta love the 6 BR
-Mike
October 29, 2014, 11:29 AM
Shaggy357
Wow, I would hate to be on the wrong end of that barrel when you get practiced up and start shooting good!! Although, I do have a few one shot groups that come close to yours......
Steve
---------------------------------
"Life is a play before an audience of one. When your play is over, will your audience stand and applaude, or stay seated and cry?"
October 29, 2014, 07:09 PM
Gary T
JamesTN,
Looks like you're off to a VERY good start w/ your first specialty pistol!!
You've got some VERY promising loads there. Keep us updated w/ load development. I've got a 1:14" 6 BR XP-100 that shoots a number of powders really well, but it's very partial to Vihtavuori N-133.
Edited to add: Sorry to hear you're selling it already.....
Link
This message has been edited. Last edited by: Gary T,


Good luck and good hunting.
October 29, 2014, 09:57 PM
JamesnTN
Thanks guys,
I did some trading and added cash to get this handgun to tinker with in between shooting IBS 600 yard matches. I've never been much of a point blank shooter but this ne handgun has been fun to play with. And work with different powders. I'm still going to work on the 8208 powder a bit more and then move over to Benchmark and may even give VV 133 a go and just see what all it will digest accurately.
As for selling it yes I do have this handgun listed for sale. So if you guys may know of anyone looking for a nicely built custom savage this is one to have as shown its a shooter and flawless to boot. Over the winter I'm gonna really do some hard core polishing on that stock and make it shine like a mirror.
Being a new poster here I didn't want to come right out and post an item for sale and no one here knows whom I am. But here's the link to my listing just in case.
http://forum.accurateshooter.c....php?topic=3856612.0
I'm not really sure what's a good price to ask for one of these so maybe someone can lend a hand on advise of my pricing if I'm too high or in the ball park?
James
October 30, 2014, 01:04 AM
MK 19
I'm not sure why your convinced that it is a short range toy, if she is shooting that good at short range you should really give her the chance to stretch her legs a bit, that toy would be a blast at 600 and further.
BTW: interested in any trades?
October 30, 2014, 06:42 PM
JamesnTN
I'd be interested in custom actions such as BAT Stolle, deviant etc.... Or high in optics NF Leupold Mark 4 8.5-25x50 with TMR reticle and tactical knobs. High end spotting scopes or high end range finders.
I guess reason I say it's a short range toy I'm only subject to what 70 - 75 grain bullets and I'm not sure they'll work with a zero FB I do have some BT 68 grain custom buyers it shoots just as well. I may stretch it out to 300 some day. I have my customs to play with beyond 500 and out to a mile.
August 09, 2016, 01:33 AM
scamp62
I have the same rig and stock, although mine is a 6 Creedmoor. I'm very interested in the rear rest you have ! is this a bought unit or did you build it your self ? could you please share any info you have and a few more pictures would be very appreciated