Specialty Pistols
BR PISTOL
May 18, 2015, 09:32 PM
DAN L
BR PISTOL
Got to take out my Stolle Cub last week
Went to try my new rear bag idea, had it welded and made heavier
The pistol still moved after each shot, you had to move back to the left one inch after every shot. I am not sure what I did wrong.
I thought the gun would stay in place, not sure what is moving , front or rear rest
Anyone run into where you have to re adjust windage for every shot
Shot ok , but could not get ten into a group
DAN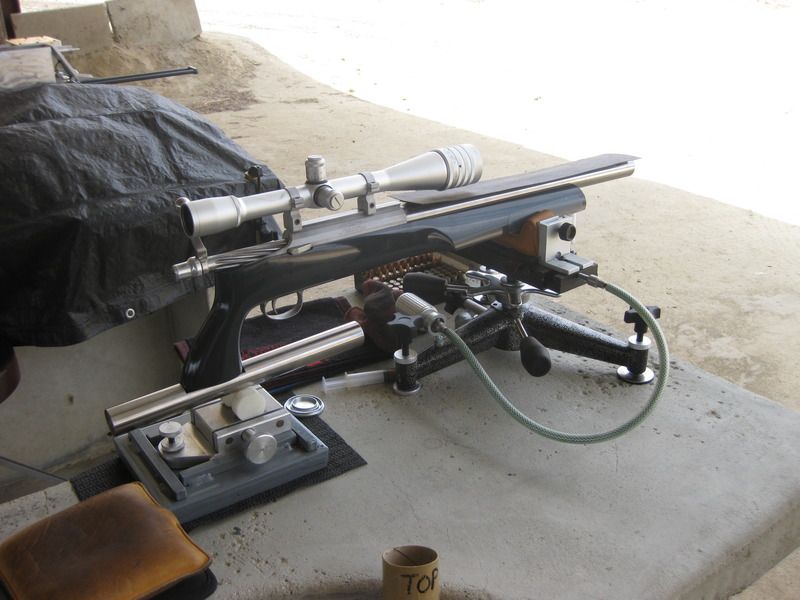 Five ten shot groups
June 06, 2015, 05:57 PM
Barnabus
id guess front back settling or shifting.Ive always had to adjust after each shot.
June 15, 2015, 10:35 AM
Nvreloader
Never done any of that type of shooting,
looks VERY interesting.
A SWAG here, could it be the rifling twist direction and results of the bullets going down the tube.
Don't know what caliber your shooting.
Outstanding shooting,
I would have those for a wallet groups any day of the week.
Tia,
Don


--------------------------------
"Any person that fears me owning a firearm, then I have reason to fear that person"
--------------------------------
NRA Life Member
Sturm/Ruger Armours School-State of Nevada POST-Remington/ S&W Armour Schools-NRA Certified Range Master-State of Nevada POST Range Master-Jaycor Certified Pepperball Instructor-OC Pepper Spray Instructor-Tazer Instructor-NRA Law Enforcement Armours School-Lassen College LE Armours School-NRA Police Firearms Instructor Development School
Nam "Oct 67-Dec 68"
173rd ABN 2/503rd "Recon"
Retired 10/01/2009, 36+yrs

June 15, 2015, 08:46 PM
DaveC
I don't know what caliber you are shooting but my experience with pistols in 30BR, 25BR and, others is that a good muzzle break makes all the difference in the world when it comes to predictable recoil. The JP Eliminator and OPS break let me watch impact on target.
Also, I use the same front rest you use. I removed the cable that adjusts the front bag left/right. My experience was that the cable had its own agenda and caused my pistol to recoil left although my rear grip wasn't isn't as rigid as yours.
This message has been edited. Last edited by: DaveC,
January 14, 2017, 12:35 PM
justgettinold
Dave is right..........dump the cable.


An analog guy in a digital world
January 14, 2017, 02:35 PM
Ernie
Sweet Bench Rig


Ernie (xphunter) "The Un-Tactical"
WY-SHOT 2022 June 20-22
January 14, 2017, 06:08 PM
chuck m
I also have the same Bald Eagle rest. I removed the cable, however, I totally disassembled the head and switched it around so that the adjustment knob is on the left side.Very nice pistol.
chuck m


------------------------------
It's hard to fly with the Eagles when you work with a bunch of Turkeys.