Specialty Pistols
Hard Case for XP
August 23, 2016, 08:40 PM
hornetman
Hard Case for XP
Does anyone make a hard case suitable to carry one center grip XP? I have a couple of old Protecto hard cases designed for two take down shotguns. They are about 32" x 15" x4" and are perfect for caring two scoped SP's. However, many times I want to carry only one. There are several soft cases around-some are great, but I need something that will give protection when stuffed in a truck bed full of other stuff. About 26 x 10 would be perfect, but I can't seem to find anything. Can someone help?
August 23, 2016, 09:15 PM
tgp
I've been using a Pelican 1700 case, it's a little long for a center grip but works great for the rear grip cannon.
Glenn


------------------------------
"Evil, unchecked, is the prelude to genocide. - Anonymous"
― Joel C. Rosenberg, The Auschwitz Escape



August 24, 2016, 07:12 AM
McClura
I have three of the Plano Tactical Gun Cases. They are 36"x 13" x 5" inside. Very secure, with remove to fit foam 1" squares. I have taken them everywhere in the back of my truck and other. They are pretty much water proof also.
I picked up one at Walmart during hunting season and the others at Dick's Sporting Goods. MidwayUSA also has some. Might be a little cheaper depending on the shipping.
I put one centergrip or rear grip XP with Burris 3x12 scope, one MTM 50 round ammo box, bipod separate from the pistol and a few tools. I even carry two Encore pistols in one. I can take a photo this evening with one of my XP's in the case if you want.
Here is a link.
Plano Hard Case
Mike
This message has been edited. Last edited by: McClura,


---------------------------------
: Don't make old people mad. We don't like being old in the first place, so it doesn't take much to tick us off.
August 24, 2016, 07:23 AM
Muskox
I have a big pelican I carry my range bench rest in.
When I am rich (poor) with XP-100's again, I'll order some more foam and cut it where I can put four of them in it.
The only down side to Pelican cases is the weight.
August 24, 2016, 08:44 AM
hornetman
Thanks for the input. Mike, would like to see a picture if it's not too much trouble.
August 24, 2016, 03:46 PM
jhalcott
I use a doscocil accessorie case. It is no longer made but can sometimes be found at gun shows. I find the take down cases a bit too long for a single xp or wichita
August 25, 2016, 09:06 AM
Smokin7mm
I also use the doskocil accessory case for my silhouette guns. it is the length you want but a little wider as it will accommodate 2 XP's.
Bret


IHMSA #49266
PBRC match director
IHMSA Washington State Director
August 25, 2016, 09:47 AM
TXBRASS
Inside a Guardian Scabbard, inside a hard case with custom cut foam. Only use this for shipping or transporting in back of truck. Otherwise, they just ride in the Guardians.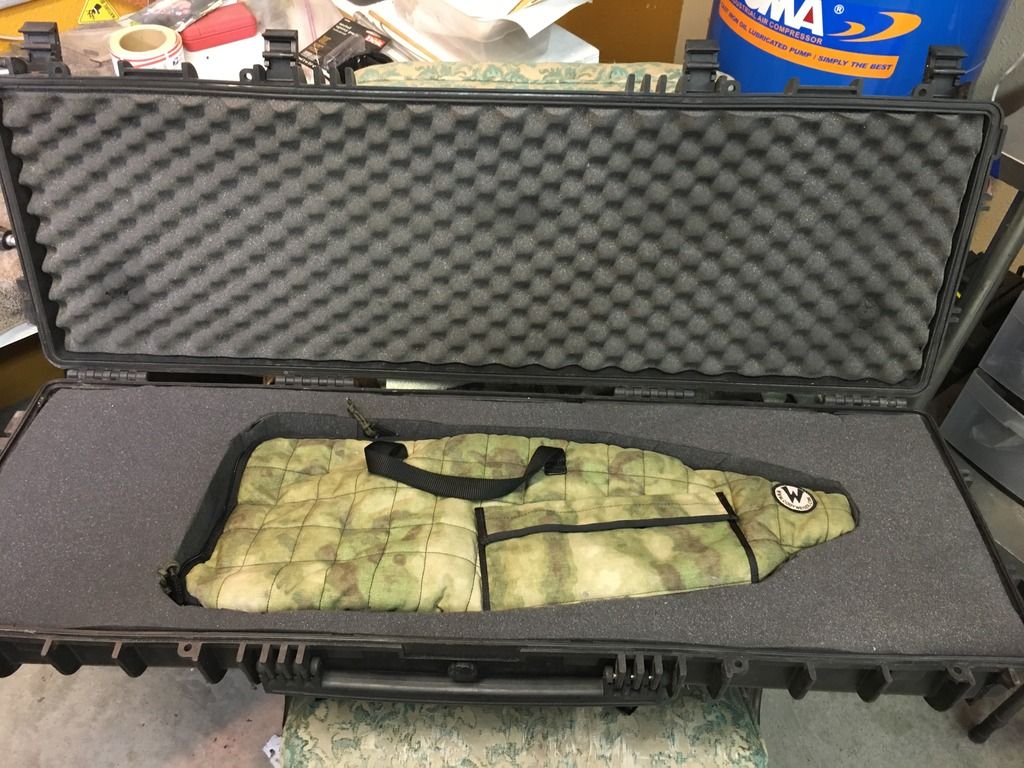 CW
**********************
Get your W-GEAR shooting accessories NOW!
SP Scabbards, Rear Rest Bags, Ammo Bracelets, Front Rest Bags, & more...
Made in USA with a LIFETIME warranty!
www.codyweiser.com
- SHORT STICK BANG GANG -