Specialty Pistols
Latest Striker stocks
July 03, 2017, 11:05 PM
tinkerer
Latest Striker stocks
My customers latest stocks.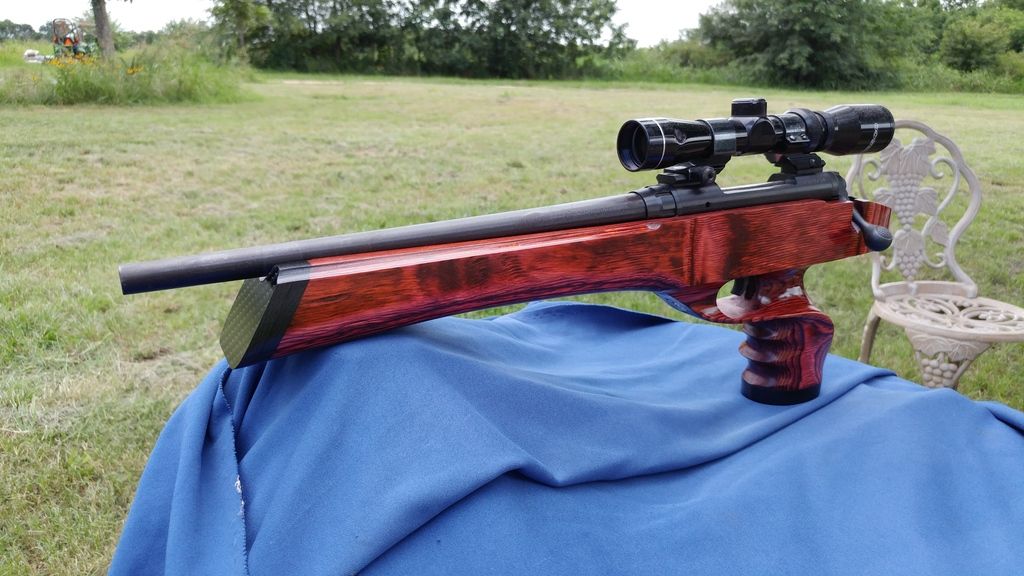 Rosewood laminate in clear polyurthane with carbon fiber cap and tip. He's got really big hands. Using my latest aluminum bedding block, devcon bedded. Really beautiful. This technique will probably become my mainstay.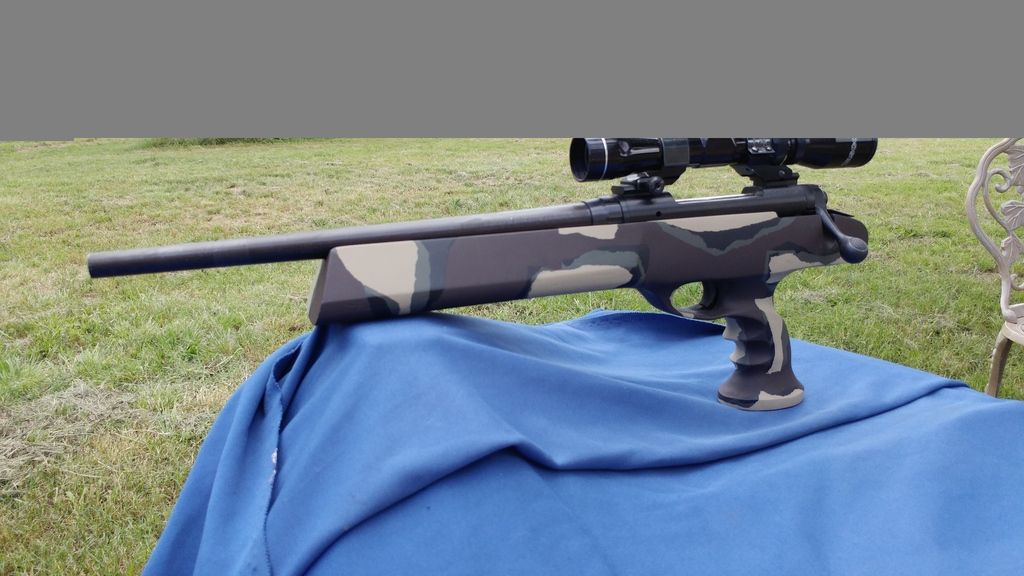 Modded Striker stock. A new camo we invented, I call it Anaconda. I like it.
More to come, still working on several more. Something to keep me sane while I look for a new job after 13 years with one employer. Rat bastard that he is.
Larry
Tinkerer
July 03, 2017, 11:21 PM
Nor Cal Mikie
Forget the Rat Bastard. Enjoy building your stocks. You're on a roll!!
And damn good at it I might add.
July 04, 2017, 12:23 AM
Iowa Fox
Nice Job Larry. I really enjoy looking at your work.
Jon
July 04, 2017, 09:15 AM
Nor Cal Mikie
(Forget the Rat Bastard) When one door closes another one opens. Keep busy BUT keep your eyes open. I'll be rooting for you.
July 04, 2017, 11:58 AM
Arrowflinger
Glad you are back at it buddy. As the proud owner of Three of Larry's beautiful stocks. I can tell you folks. They are first class! These are awesome. Keep it up.
Derek >>>--------->
July 04, 2017, 03:50 PM
Freeze
Tinkerer,
I can't wait to get the "Anaconda" home and in my hands.
It looks fantastic to me in the pics.
I'm sure it will be all I had hoped for and more.
Once I get her put back together I will put her through the paces.
Thanks,
Freeze
July 04, 2017, 07:21 PM
ksbohuntr
Nice work Larry.
July 04, 2017, 09:23 PM
BLASERMAN
Like to have one
July 05, 2017, 09:21 AM
Magnum Mike
Hi Larry, I appreciate your sharing with us these stocks your building for your customers, only issue is that, per our terms of service, you must have at a minimum of a vendor subscription for this type of advertising on SP. You can purchase a subscription here >
http://accuratearmsandammo.com/Business_c4.htm
Thank you for your understanding in this matter.
mike
------------------------------
JUST SAY NO To Gun Bans, JOIN Gun Owners of America

Need accessories? Looking for reloading equipment or components? Check out
July 05, 2017, 09:41 PM
tinkerer
Oops. thought I did, or at least used to.
I'll correct that ASAP.
Don't know if it went through, let me know.
Larry
Tinkerer
This message has been edited. Last edited by: tinkerer,