Specialty Pistols
Sako 6ppc pistol
March 12, 2009, 01:22 PM
OneGoodShot
Sako 6ppc pistol
Want to thank Steve for the heads up on the Sako 6mmPPC. Some really fine workmanship went into this stick. Hope to shoot it Sunday if the weather cooperates.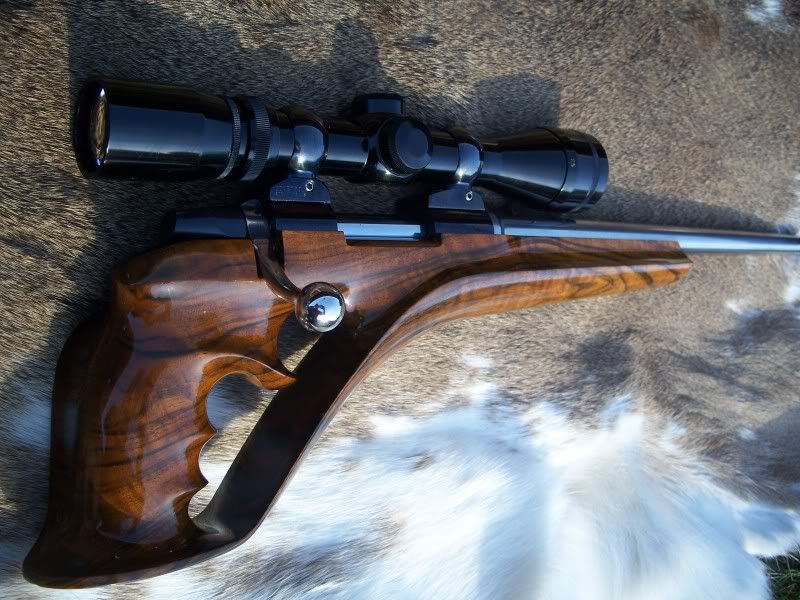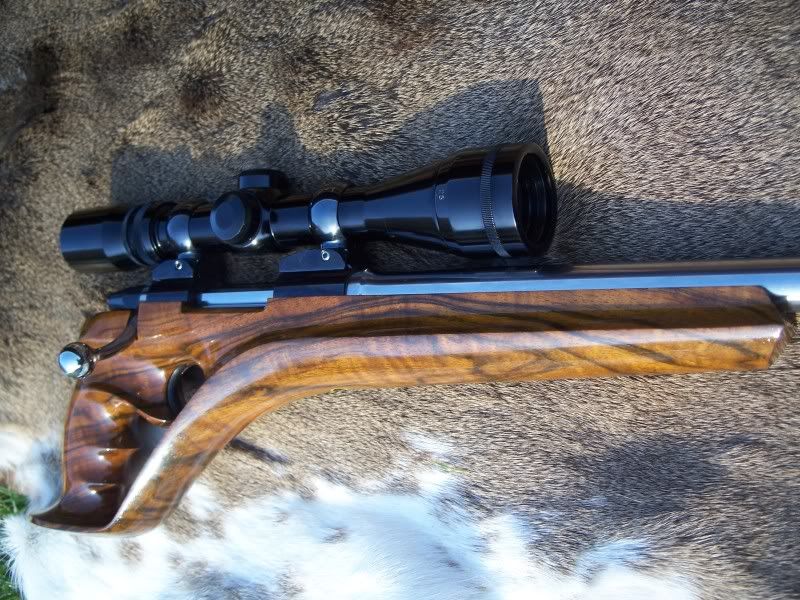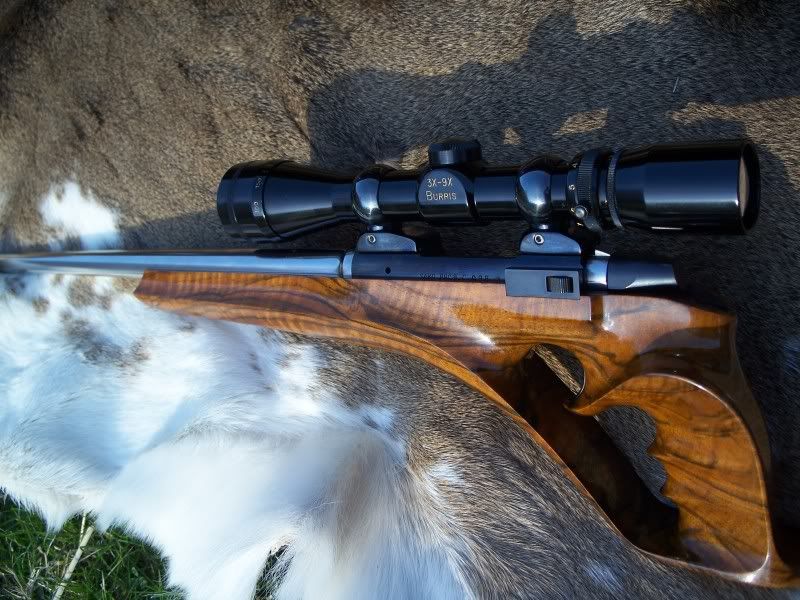 This message has been edited. Last edited by: OneGoodShot,


------------------------------
I'm Ya Huckleberry
An armed man is a Citizen, an unarmed man is a Subject.
March 12, 2009, 05:27 PM
Downtown
Just tell me some day I'll get to hold it.
This message has been edited. Last edited by: Downtown,
Steve
Open your heart, Do everything for the glory of God
March 12, 2009, 05:33 PM
Mrs. Downtown
Ben (our youngest) says COOL....WAY COOL!
I have to agree.
Becky
"Your children will become what you are; so be what you want them to be."
NON SUM OVIS
March 12, 2009, 07:32 PM
6 BR
droooooooooooooooooooooollllllllllllllllll....I always thought that was one of the best looking SP's ever made. Used to be one on the cover of a Hodgdon reloading mag a while back......Mike


------------------------------
"A gun is a tool, It's only as good, or as bad, as the man who uses it".......No taxation with crappy representation..........All politicians should serve two terms, one in office, the other in prison.......
March 12, 2009, 08:00 PM
blue06van


------------------------------
Good judgment comes from bad experience ... and most of that comes from bad judgment.
March 12, 2009, 08:35 PM
Gman
They don't get any prettier than that one! If it shoots half as good as it looks it will be a tack driver!
Harry
March 12, 2009, 08:43 PM
TCKev
Love that stock!!!


------------------------------
Pro 2nd Amendment



Tight Groups
My Name Might Be TCKev
But I Love XP's Xd's & 1911's
March 13, 2009, 12:48 AM
BobsArmory
I'm glad someone from SP got it!
Make sure you post pics of the target.


Bob
NRA Life Member
Safari Club International

Keeping the forces of evil at bay.

April 08, 2009, 06:36 PM
OneGoodShot
Just saw the post about me not shooting the sako yet and my lack of a promised range report. I thought I had a set of 6ppc dies secured, but it turns they were for 22ppc. So, the last few weeks I've been getting educated as to just how many different 6ppc chambers that are available as well as finding just how UNavailable the brass is.
I've been able to discover that this pistol has a pretty interesting history and it came from the estate of a Hans Ager of Arizona.
I've been talking to a guy who has another and here is some of the information he sent me.
"It was designed by Steve Herrett and Tony Barnes sako, and was completely hand made by Toney. Built from an action in the white in 1992/93, Toney made the trigger from scratch, hand shaped and inletted the exhibition stock and put well over 250 hours into each pistol. Toney made a total of 32 of them, and Steve's son Rod Herrett made 5 out of the remaining actions."
"Only other one I've even seen belonged to Bill Ruger (Sturm, Ruger & Co) and was featured on the cover of a gun magazine many years ago."
Subsequently, I called Rod Herrett on Friday, April 3 and had a nice conversation with him. He confirmed everything that I had previously discovered and said that the stock had 30 coats of oil on it. He said that he still had 4 of the pistols and liked hearing about where the others ended up. He gave me another name to followup with (Wayne Wymer?), but I havent had any luck yet.
So, I'm still working on it. I guess I need to get a cerocast to determine what chamber and will proceed with dies accordingly. Yup, I'm still gonna shoot this thing.
I wanted to see the rest of the gun and get pics of the trigger for conformation. The stock fit so tight that I was afraid I was going to break it. Finally got enough courage to put more butt behind it and here is what she looks like.
This message has been edited. Last edited by: OneGoodShot,


------------------------------
I'm Ya Huckleberry
An armed man is a Citizen, an unarmed man is a Subject.
April 08, 2009, 07:25 PM
BobsArmory
That is probably on of the best looking bolt pistols I have ever seen. All I can say is WOW!!


Bob
NRA Life Member
Safari Club International

Keeping the forces of evil at bay.

April 08, 2009, 08:01 PM
jabradyjr
That is a real beauty Joe! Hope you have a ton-of-fun with it!


------------------------------
Just a 50 yard paper puncher...



April 08, 2009, 08:32 PM
rem40xb1
. Very nice indeed Ross
April 08, 2009, 09:48 PM
Tigger
IMPRESSIVE!!!!
The rings look like the "cone-trol" that is advertised in the Handloader magazine. What do you think of them??


........................................
NRA Life member

"It is our destiny to attempt the impossible, to accomplish great deeds regardless of fear"

~SAPHIRA~
April 08, 2009, 09:57 PM
AmmoHouse
That is beautiful!!!!!!!!!!!!!!!
I'm waiting on my Sako with new stock from Neal...but it won't be near as pretty as that one!!!
------------------------------
USAF AMMO Retired!
I kill animals...I don't harvest them...I don't take a Combine hunting!!

April 09, 2009, 09:20 AM
OneGoodShot
Dale,
I have a set of Millet on my other sako and these are 10x the base/rings. They are really robust looking, but very neat and clean boot.
I'd never heard of these until I got the pistol. I'm gonna order a set for my other sako now.


------------------------------
I'm Ya Huckleberry
An armed man is a Citizen, an unarmed man is a Subject.
April 09, 2009, 10:07 AM
Downtown
Had the person on GunBroker listed that history I bet your gun would have gone for much more. It is a piece of art indeed.
Enjoy it well...
I still get to hold it some day right.
Steve
Open your heart, Do everything for the glory of God
April 09, 2009, 07:38 PM
DAN L
VERY COOL
LIKE THAT STOCK DESIGN
HOPE IT SHOOTS AS GOOD AS IT LOOKS
DAN
April 09, 2009, 10:13 PM
Tigger
quote:

Originally posted by OneGoodShot:
Dale,
I have a set of Millet on my other sako and these are 10x the base/rings. They are really robust looking, but very neat and clean boot.
I'd never heard of these until I got the pistol. I'm gonna order a set for my other sako now.
I have seen them advertised and they look good with very clean lines. They boast the lowest scope center to bore axsis. That's cool, but I have seen where the adjustment ring and the bolt have had conflicts if the scope is too low.
As it looks the ring holds in the base with screws much like the windage adjustable dove tail rings. I wonder if there is any windage adjustment per say. Let us know what you think when you mount the new set.


........................................
NRA Life member

"It is our destiny to attempt the impossible, to accomplish great deeds regardless of fear"

~SAPHIRA~
April 10, 2009, 04:44 AM
jorvin
did you guy's know that this pistol was on the cover of hodgdon's 2007 annual manual? very famous!


------------------------------
NRA yes!
April 10, 2009, 04:58 AM
GIVER OF DOOM
I will never understand where some of this creativity comes from. To look at something and see it different then those around you is a divine talent. The wonderful pistol is a continuing proof that the mind has no limits.
One of the absolutely finest XPs ever created.
you are very lucky to have this work.
dooM
April 14, 2009, 01:19 AM
rubbercrutch
You are right, That is one sweet pistol. Tony was a personal friend during the 25 years that I worked for Herrett's Stocks. He was a true master of the art of special gunsmithing. He also made many rifles, black powder guns and some very neat knives. Most of his work was done in the wee hours of the morning in the basement (tiny) machine shop in his house. His passing left a big hole in the field of specialized pistols. I miss him. You have a tru collector gun because there will never be anymore of them.
April 22, 2009, 11:20 AM
OneGoodShot
Welcome to SP!
Just a progress report (or lack thereof) of getting things together to shoot the pistol.
I tookk the pistol to Douglas barrels before work this morning and told them I didn't know what kind of 6 ppc chamber I had.
They had a few 220 Lapua brass that were 6ppc firefirmed. I was able to get a .261 to chamber but not a .275 loaded round. He is thinking it is a .262-.263 neck and let me have the .261 to seat a bullet and fire it to take some measurements. So, I'm gonna load this round and see what I get......
Here's a question for the board. What about rechambering? Fireforming is a pain, but add the neck turning (I've never done this but I hear it is a real pain) and the prospects of having a rechamber look pretty enticing.
I am intrigued by the 6mmAR. From a practicality standpoint, I already have a pretty good stash of Lapua 6.5 Grendel brass. Dies would run about the same price and the 6mmAR wouldn't involve neck turning or fireforming. Just neck down the 6.5 to 6 and you are ready to go in one step.
Any input??


------------------------------
I'm Ya Huckleberry
An armed man is a Citizen, an unarmed man is a Subject.
April 22, 2009, 01:18 PM
KYODE
unless you don't like shooting....fireforming is not a pain....it is simply MORE shooting.
if you did not want to turn necks, just have the chamber neck opened up so ya don't have to.
for a complete rechamber....6BR....surely.


------------------------
~Kentucky....there is no place i'd rather be~

Join the NRA
April 22, 2009, 05:36 PM
OneGoodShot
Think you would have to change the bolt face for a 6br. That is why I was staying with the 220 russian headed brass.


------------------------------
I'm Ya Huckleberry
An armed man is a Citizen, an unarmed man is a Subject.
April 22, 2009, 06:14 PM
<RP>
Not familiar with Sako,s,yours is very nice by the way,but with their extractor 6Br should work. Richard
May 09, 2009, 10:32 PM
Joni Lynn
That's a beautiful work of art. I was a teacher in that part of Idaho for a short time and got to know Tony, saw his shop and just didn't have enough $$$$ to have him make me one of those.
The bolt face on a Sako 461 action just isn't big enough for a BR case. PPC is about as big as possible. Tony made some other cartridges for these but I don't know what they were based on.
That gun is truly art and it would be a shame to modify it.
Tony also modified that trigger to what it is so it would be closer to the action instead of being further below it like an XP is.
Tony & Harold are missed.
This message has been edited. Last edited by: Joni Lynn,


------------------------------
Smith & Wesson, The Ultimate in Feminine Protection!
May 11, 2009, 10:27 AM
35isit
I got to see this gun in person May 9th. Pictures don't do it justice I think. It is a well conceived and executed piece. If it were mine i would leave it alone. I would spend the time, energy and money to get brass for it. I know onegoodshot tried some ammo Kevin had at Dean's shoot. It simply would not work. After seeing it I really was hoping for an invitation to shoot it. But no bullets no invitation. It was nice to meet you onegoodshot.


Greg
Life Member NRA
7/27/2010 80x80
May 11, 2009, 07:42 PM
rubbercrutch
Hi Joni Lynn, I worked with Harold for 25 years. Did you ever visit Herrett's? If you did, we may have met. You are right. His and Tony's work was truly art!!!! Neither of them ever got the recognition they deserved. They truly are missed. Larry
May 11, 2009, 08:29 PM
Joni Lynn
Yes, I've been to Herrett's a few times, I was even invited to Harold's home once where I saw his guns and the one he made when he asked Steve for a job.
Harold made a lot of stocks for me, some out of woods he only worked with that one time.
I visited Tony a few times, he showed me the storage for his black powder in the garage and we sat in the basement and talked about guns for awhile.
I'm sorry they're gone.
I had hoped that one of the magazines would have done a story but sadly not a word was printed.


------------------------------
Smith & Wesson, The Ultimate in Feminine Protection!
May 13, 2009, 01:08 AM
rubbercrutch
While working with Harold Garrison for so many years, I found him to be a true artist. He and I didn't get along well at first but after while we found that we each had our place and we both respected that. I was primarily involved in the machine made stocks and he was the "Custom Guru". I had left Herrett's to start my own business about a year before Harold died but I had the honor of being asked to speak at his funeral. I can honestly say that if the truth were known, the Herrett's custom stocks should have been called Harold Garrison Custom Stocks because he was truly the artist behind the work. He didn't seem to ever want the recognition however he certainly deserved it. You should feel very honored to have been shown his collection because not many people were. Not a lot of people ever saw Tony's work shop either. Wasn't that a neat place??? Where did you teach?
May 13, 2009, 06:59 PM
Joni Lynn
I accepted a position in the Lewiston area and Harold told me the people there were a bit different.
After I got tired of that little school and the different people I moved back to southern Idaho and asked him about that. He told me "I told you they were a little bit different" (he may be the greatest master of understatement I have ever known). I didn't stay in Idaho long, I came back to PA where home is.
I was saddened to hear of his passing, and that only after a few years had passed. I wondered what became of his guns. He had Steve's Colt SSA as well as a family hand-down trap door in 50-70.
I have a fairly large collection of stocks he made.
This message has been edited. Last edited by: Joni Lynn,


------------------------------
Smith & Wesson, The Ultimate in Feminine Protection!
May 13, 2009, 11:28 PM
rubbercrutch
I'm not sure what happened to Harold's guns but I can ask his wife. Maybe I'll do that and let you know. I know that Tony appraised the collection so that Harold's wife would not be robbed by the vultures that always seem to circle collections like his. If you would like to see some more of Tony's work see "Welcome Rubbercrutch" on this site for some pictures of some of my guns posted by One Good Shot. Also there are a couple of my XPs and my TC Contender in 30 Herrett. Harold hated to work with people and had a favorite saying "When the alligators get too fierce, it's time to drain the swamp". He drained the swamp several times while I knew him. Maybe it would be a good idea for someone to start another thread about Tony and Harold. Perhaps they could get some of the recognition they deserve.
May 13, 2009, 11:54 PM
rubbercrutch
I talked to Mrs. Garrison tonight and she told me that the collection was divided between Harold's 6 children. She didn't keep any of the guns herself. They have a collection of letters he received from people he made stocks for and their daughter is compiling them into a book. I asked to see it when it is finished. That should be very interesting. She told me that his personal satisfaction was all the recognition he ever wanted. I'm sure that is true.
May 15, 2009, 09:29 PM
Joni Lynn
I'm glad to know the guns stayed in the family.
Thanks for the info.


------------------------------
Smith & Wesson, The Ultimate in Feminine Protection!
May 16, 2009, 12:38 AM
rubbercrutch
My apologies to "One Good Shot" for stealing his thread but I would like to say something more about Harold. He had the most complete collection of Japanese WW2 small arms that I ever saw. They say that it was nearly 100% and when he and a man from Seattle combined their collections for a show that it was complete and the only one known at the time. He also collected early Winchesters and Colts and had many very rare guns. Once I, and several others, helped him move his collection from the basement of his home to a more secure location. There were several layers of guns in the back of a U-Haul van. I have no idea how many there were. We had to catalogue them and it took nearly a week. He claimed that he never paid more than $5.00 for a gun. He said he couldn't afford the furniture that it would cost him if his wife knew how many guns he had. He would sneak them home by taking them apart and take them through the house a piece at a time. She never knew how many of the pieces he brought in actually stayed there as he was doing repairs for a lot of other people also. She found out what the collection was worth when Tony Barnes appraised it for loan purposes when Harold and his wife bought a house. Needless to say she was flabbergasted!!! I'm also glad to hear that the guns stayed in the family.
Again, my apologies to Joe.
May 16, 2009, 08:12 AM
OneGoodShot
LOL, no apologies needed. I like reading about things like this. I even enjoy the E-mailed motorcycle stories about these guys. Brings a personal touch to the firearm when you know about the builders.
I "heard" that the more guns you have, the easier it is to slip new ones into the house unnoticed


------------------------------
I'm Ya Huckleberry
An armed man is a Citizen, an unarmed man is a Subject.
May 16, 2009, 06:05 PM
bsppc
You can get a throating reamer and open up the neck of the chamber. That way you get to keep the 6ppc. The other option would be to purchase neck turned brass from a couple of different benchrest suppliers. Go to benchrest.com and look at Ron Hoehn or Lester Bruno. Both are big time suppliers and hall of fame members.
Based on the history of this firearm, I would buy turned brass and shoot it as is. Once you see the accuracy the gun is capable of, you would have it no other way. PM me if interested in loading info, etc...


Proud NRA Life Member
May 17, 2009, 01:00 AM
rubbercrutch
Judging by the looks of your collection, you might have some experience with "sneaking" guns into the house.
I really wouldn't know too much about the subject.
I do agree, with bsppc, though about maintaining the 6ppc in that gun. It would be a real shame to do something before really giving it a test. As I told you on the phone, Tony probably sent a test target and some once fired brass with the gun when it was finished. The target would have been one to be proud of, I'm sure. Rod Herrett has also shot some really good groups with the 6ppc. A lot of ground squirrels also. I believe Tony built one of those guns for Bob Milek and I know some other writers got one too. Tony built one for Esa Verho who was a high muckamuck at Sako and presented it to him at a Shot Show. He kept telling Esa that he didn't get it finished in time so he would have to wait for the next Shot Show. Finally on the last day of the show, just before the close, he gave it to him. Boy that was one happy Fin, when he saw that gun. Tony had his own private range at his home. It was 100 yards across an open field. He stacked logs against a pile of dirt up against a high canal bank. His target butt was in front of the logs. His shooting bench was on his back patio so it was always handy. He also chronographed just about everything he shot. The loads for that gun would have been recorded also. As I said, Tony didn't do things half way.
December 14, 2009, 08:35 PM
OneGoodShot
FINALLY shot this gun for the first time today. Turns out the 261 brass that would chamber wouldnt work when bullet was seated. Played with it a little last week and turned the neck, but this was all new to me and I still didnt have any luck.
This morning it was too foggy to take the muzzleloader for a walk so I broke out the Forster neck turner. Using brand new Lapua 22ppc brass that has been necked up to 6ppc. Problem that stopped me last week is the pilot would only go in 1/4" or so and then it would stop and leave a small ring inside the neck. Today I took a 243 decapper die and it "sort of" alleviated that problem.
Finally got a piece of brass turned down to .261, it chambered. Seated pill and "no go". Pulled pill and turned it down to .260 and seated pill. It chambered so I went outside with a heavy leather glove and carhart with jeans wrapped around my arm. Put arm around corner of house and pulled the trigger. Hurray, gun didnt blow up. Measured the fired round and it was between 260 and 261. Made one more and shot it to verify my measurements.
Preparing brass is a huge PITA. I dont like doing this one bit. I dont know why the brass doesnt go on the pilot all the way. Is there an inside neck turner? On the third round, I took a pill and seated it really deep past the neck and then pulled it with the kinetic hammer. Seemed to go on the pilot better. Is this standard procedure. Regardless, I'm still whining about preping brass.....big PITA!
Thoughts or suggestions????
On a good note, I took both the fired rounds and sized them using the 259 bushing, loaded them and got to shoot 2 more times. 4 rounds down range so far but only 2 pieces of brass as the last one I managed to cobble up before fireforming.


------------------------------
I'm Ya Huckleberry
An armed man is a Citizen, an unarmed man is a Subject.
December 14, 2009, 08:59 PM
257rob
Looks Wonderful
Kevin


IHMSA #55786
December 14, 2009, 09:25 PM
Tigger
Joe sounds like the doughnut at the bottom of the neck shoulder junction inside the brass from turning necks. Here is an article with great pictures and maybe a solution to the problem.
K&M doughnut cutter


........................................
NRA Life member

"It is our destiny to attempt the impossible, to accomplish great deeds regardless of fear"

~SAPHIRA~
December 15, 2009, 08:29 AM
OneGoodShot
So are you saying that the necks need to be in fired condition to fit better over the neck turning pilot?
Thanks I appreciate the offer, but still no help.
Problem is I have to turn them to fireform them. These are virgin 22ppc brass that I resized to 6ppc. Have to turn the necks before they will chamber in my gun.
I have some 6ppc USA stamped brass as well as some Norma 6ppc, but they wont chamber either.
I do have a small base die and now that I have the neck bushings, I can try to see if I can make something work that way.


------------------------------
I'm Ya Huckleberry
An armed man is a Citizen, an unarmed man is a Subject.
December 16, 2009, 05:18 PM
HotRodAl
Joe I have a Sinclair 6mm expander that I use to expand the necks of my PPC brass before turning them, its slitely oversized so it will open the necks up enough for the neck turner pilot to work. I've used this one for years and it has done the trick for me. If you would like to borrow it I would be happy to send it.


Albert
------------------------------
Life Member NRA
Navy Submarine Veteran

December 16, 2009, 10:21 PM
Totch
I'll make you a deal, send me that piece and I'll trade you my 7mm-08 Encore--- No neck turning needed. I'll include 500 rounds of brass, heck, I'll even load 'em for you first.
That might be the most beautiful pistol I have ever seen. A true work of art.


------------------------------

Political Correctness: The theory that it is entirely possible to pick up a turd by the clean end.

Life's Hard, its even harder if you're stupid.
December 17, 2009, 07:22 AM
OneGoodShot
Thanks for the offer Al.
Totch, I'm going to give it another day or two before taking you up on your offer.
I was able to get the 6ppcUSA brass to turn easily. Unknown firings on the brass, but all 17 pieces turned down to 259 without any issues.
I'd never heard of the donut before so that was another learning experience. In the batch of Sako 6ppc and Norma brass were a few rounds of fire formed lapua 22ppc and they would only turn down the neck until it hit the donut.
Just waiting for it to warm up a little this morning to see how it shoots.


------------------------------
I'm Ya Huckleberry
An armed man is a Citizen, an unarmed man is a Subject.
December 17, 2009, 06:20 PM
OneGoodShot
OK Short range report. 30 degrees and I was shooting off a plastic cafeteria table.
First shot was dead center at 50 yds so I guss the scope hasnt moved much since the previous owner shot it and my load must have been pretty close as well. Forgot the video on the first shot, but I did tape the rest of it and will try to remember how to do a youtube video next week.
Results at 50 yds fireforming 220 Lapua brass was 4 holes with no paper in between them. Couldn't get 5th to chamber as I didnt turn it down enough or something.
Using the 6ppc USA brass I shot 5 at 100 yds. 1st was in the bullseye, I shanked the second to the left. Ended up with 3 holes in the paper for 5 shots. I was using h322 and 70gr sierra hpbt.
Loaded the remaining 12 rounds of the USA brass with hornady 80gr single shot pistol bullets as I want my father to shoot a doe with it in the late doe season.


------------------------------
I'm Ya Huckleberry
An armed man is a Citizen, an unarmed man is a Subject.
December 27, 2009, 12:29 AM
rubbercrutch
Hi Joe, Great to see you are giving the SP it's rightful due. That gun should be capable of one hole groups with the right loads and sounds like you are definitely headed that way. Larry
December 29, 2009, 05:56 AM
atm
quote:

Preparing brass is a huge PITA. I dont like doing this one bit.
Get in touch with Ron Hoen & buy it turned & ready to shoot.
http://www.benchrest.com/hoehn/html/ammo___brass.html
December 29, 2009, 07:46 PM
Stonewall2
Don't try to change the caliber.....
"Get in touch with Ron Hoen & buy it turned & ready to shoot."
I was just about to post that after reading all the previous posts.
Another place for information would be on Benchrest.com.
For a while competitions were shot with 6 PPC pistols .
http://benchrest.com/forums/forumdisplay.php?f=6
Kelbleys would be another place to send an email.
I'm sure that you can find a Benchrest shooter near by to help with case forming and loading.All you have to do is ask.
I would try AA-2015 as per loading data with Berger or some other match bullets.
Don't try top Benchrest loads as shown on the site. That Sako is not a Benchrest rifle!
Glenn
December 29, 2009, 09:21 PM
XP-Nut
thats a sweet looking pistol.


PJ
------------------------------
One Good Shot...Is All I Need.

We All Die....Few Of Us Live.
December 31, 2009, 04:07 AM
atm
Stonewall2, welcome to the forum.
January 11, 2010, 06:13 AM
sscoyote
quote:

Originally posted by jorvin:
did you guy's know that this pistol was on the cover of hodgdon's 2007 annual manual? very famous!
That's what 6BR above your post said . I thought it looked familiar. U knwo that rig oughtta' be on the cover of Precision Shooting mag. Bet editor Dave Brennan would LOVE it. He always likes oddball stuff like that (us). Man the story behind it and the guys that worked on it would be something fun to read, i tell ya'.


Steve
January 11, 2010, 06:25 PM
<Hammer47>
Nobody has ever proven to me that a doughnut at the base of the case neck is a bad thing. ANYONE with any benchrest knowledge knows that the bullet is NEVER seated below the resized portion of the neck. Since anyone who is familiar with the PPC knows, the reloader NEVER sizes all of the neck, only the portion which provides tension for the bullet. The very base of the neck/shoulder junction is left in the "previously fired diameter" to facilitate case allignment in the bbl from which it was previously fired. Don't know why I bother to state the obvious since I am sure it is "old news" to any reloader on this board.
This message has been edited. Last edited by: <Hammer47>,
January 11, 2010, 10:01 PM
bsppc
I would not be so sure of your hard and fast rules about what benchrest shooters are doing. Things have changed since you formed your opinions.....


Proud NRA Life Member
January 16, 2010, 08:49 AM
<Hammer47>
Do tell... in what respect?
January 16, 2010, 10:06 AM
magman
Great looking gun. It's a work of art!!!! Don't mess with it Joe.


Tim
------------------------------

NRA PATRIOT Life Member


January 16, 2010, 12:23 PM
bsppc
Serious benchrest competitors are extremely picky about brass preparation and by turning necks properly, you completely avoid the donut in necks. The donut also causes a "venturi effect" of a nozzle and changes the burn charactaristics of your load. It is one more variable that if you take extra precaution in brass prep that you remove from the equation.
The days of partial neck sizing are also behind us. When that was popular, people were neck sizing and occasionaly bumping the shoulder of cases. In todays BR world guns are being operated at much higher pressures in an attempt to get find a competitive tune in the "upper load window". Typically there are three nodes or load windows for the 6PPC that it "comes into tune". Most shooters now elect the top load, thinking if accuracy is equal in all three nodes, shoot the the top load to help fight the effects of wind.
Given that shooters are shooting up around 70,000 psi now, the brass must be full length sized after every firing. Custom dies that hit the base, shouler and take bushings are being used and the entire case is being sized, just a little, every firing. There is no question that we want a very close fit of the entire case to the chamber, and it is poor thinking to assume the base of the neck itself is enough to provide proper chamber orientation for loaded rounds.
Another more recent development is the use of thicker necks to negate some of the neck tension variables. Old wisdom said you needed a .262 neck to clean up the old Sako brass. With the excellent quality of Lapua brass, you only need to remove a very light skim cut to clean up necks and shooters are now using .269 and .270 necks. One advantage to this is that necks maintain their elasticity much longer than thinner .262 necks.


Proud NRA Life Member
January 17, 2010, 07:40 PM
<Hammer47>
I presently resize the brass both ways, the old way of neck sizing and the newer way by using the small base fl button die which sizes the entire case and I bump the shoulder .001 from fired dimension. I find no gain in accuracy with either method. The only good thing with the fl resize is that when the base tends to swell with repeated firings, this takes care of that problem.
You refer to the "venturi" effect. Every dog in the joint has read this same crapola on the net, please expound on this "effect" and prove that it is detrimental to accuracy. For all anyone knows it PROMOTES accuracy.
November 22, 2010, 09:34 PM
OneGoodShot
quote:

"Get in touch with Ron Hoen & buy it turned & ready to shoot."
I did just that about a month ago. I talked to him on the phone and two days later the brass arrived with the invoice to pay. That was fantastic service.
I finally got around to loading this weekend and fireformed 25 pieces. I got 12 shots in on large hole at 100 yds so I was quite satisfied.
Sunday, I loaded up the fireformed brass with the 80 gr Hornady single shot pistol bullets and needless to say, I'm very satisfied at how the gun did today.
80-90 yd shot through the shoulder and a hole 1 inch++ through the heart and exited on the other side.
Dont want the post lost for inactivity.


------------------------------
I'm Ya Huckleberry
An armed man is a Citizen, an unarmed man is a Subject.
November 23, 2010, 06:38 AM
Bobcat
First time I've seen this post, your pistol is a treasure and a very beautiful one. Looks like it will do the job as a hunter too, congrats!
A lot of history in this thread, thanks for bumping it
Bob


------------------------------
I think it better to do right, even if we suffer in so doing, than to incur the reproach of our consciences and posterity.
General Robert E. Lee
November 23, 2010, 08:20 AM
Rodent
Congrats Joe!!. Glad that you got it all worked out. I really enjoy this thread. I have gone back to read it a couple times. Great post.
Mike


------------------------------
Piedmont Sportsman Club
IHMSA #27115
NRA #146349408
EMT-B

November 23, 2010, 11:01 AM
tgp
I believe this is the first time I've read this thread and all I can think of is WOW! that is one beautiful pistol and I really love reading about some of the past history of your gun and others. The men mentioned in your thread are legends and really helped get us to where we are today.
Looks like a happy hunter also
congrats!
Glenn


------------------------------
"Evil, unchecked, is the prelude to genocide. - Anonymous"
― Joel C. Rosenberg, The Auschwitz Escape



November 24, 2010, 10:29 PM
rubbercrutch
Congrats Joe!!! Nice Deer!!!! I'm not so sure that Tony didn't mean that pistol to be a BR gun. He always figured that the first shot was the one that counted. Harold did too. When Harold sighted in his hunting rifle every fall he would go out to his favorite spot in the desert north of the Snake River canyon and shoot one shot at his 100 yd target. Then he would put it away until his next opportunity and then shoot one more shot at the same target. He would do that 5 times. I saw some of those targets and they were some fine groups. All 5 shots were out of a cold barrel. He hunted with a customized Springfield in 6.5-06 AI. I watched him deck a mule deer buck at 250 yd plus and that deer flopped and never budged. That gun had the most beautiful bird's eye maple stock that I have ever seen. Larry
BTW hope all of you have a happy Thanksgiving tomorrow!!!!
January 27, 2012, 07:45 AM
OneGoodShot
Bumping this to keep system from purging it because of age.
I don't want to lose some of the info.


------------------------------
I'm Ya Huckleberry
An armed man is a Citizen, an unarmed man is a Subject.
January 27, 2012, 09:32 AM
35isit
Joe, I'm glad you did. I want to thank you from the bottom of my heart. I had the privilige of shooting this piece of history at Dean's club in 2010. I hope ou make it again this year and bring me 1 round.


Greg
Life Member NRA
7/27/2010 80x80
January 27, 2012, 11:38 AM
50bmg
What an amazing pistol and interesting thread. Glad it was bumped so new folks like me could check it out. Thank you!
June 27, 2013, 09:04 PM
OneGoodShot


------------------------------
I'm Ya Huckleberry
An armed man is a Citizen, an unarmed man is a Subject.
June 29, 2013, 01:07 AM
rubbercrutch
Thanks Joe, for bumping this thread up. I've given thought to some more about Tony and Harold. Maybe I'll get around to posting some of it. trouble is, I get writers cramp just thinking about it.
June 29, 2013, 07:09 AM
Bobcat
quote:

Originally posted by rubbercrutch:

Thanks Joe, for bumping this thread up. I've given thought to some more about Tony and Harold. Maybe I'll get around to posting some of it. trouble is, I get writers cramp just thinking about it.
Please do! It would be fine with me if you posted it in small pieces. maybe Joni Lynn could tell a few stories too. I just re-read this whole thread and I think this gun is my favorite on the forum. All the history fascinates me


------------------------------
I think it better to do right, even if we suffer in so doing, than to incur the reproach of our consciences and posterity.
General Robert E. Lee
July 21, 2013, 10:43 PM
varmint exterminator
Beautiful gun. You are a very lucky man.


------------------------------
Thank-You Jesus for being there for me and my family in times of need.
July 22, 2013, 08:22 AM
BobM
A SYMPHONY IN WOOD AND STEEL!
September 11, 2013, 03:27 AM
dukhnt
Hi guys,
Joe contacted me via email and asked that I share anything I knew about Tony and the pistols in this thread. I haven't had time to take any recent pictures of mine, but I will try to get around to it.
First, a little backstory:
I was just out of high school and starting college when I needed a job. I loved hunting and shooting, so I was often at the LGS buying ammo. One day I noticed a sign on the door that said "help wanted". I told the owner I would love a job and was hired.
I still remember the day I first met Tony. He was very tan and his white hair stood out. He was standing behind the gun counter, but I had never seen him before. I don't remember what I said, but in good ol fashioned Tony terminology, I found out quick he wasn't someone you smarted off too.
After a few months of working at the gun store, I became roommates with one of the other employees. He was good friends with Tony and one night when I came home he was cleaning the most beautiful pistol and work of art I had ever seen. He told me the story about how Tony had made it, and showed me the various parts and workmanship that had gone into it. I was in love!
Enough time had passed that Tony somewhat tolerated me at this point. I told him I had seen the pistol he made and asked if he would ever consider making me one. He snickered and walked away. For years to come I would ask Tony to make me a pistol. Although I was never told no….I wasn't ever told yes either.
During my employment at the gun store I made a lot of good friends. Some were employees, some were customers. I don't know that I could call Tony a friend, but he was someone I got to know and had a huge amount of respect for. I was never invited to his famous basement, I never got to buy him lunch, and I never went shooting with him, but it eventually got to the point that we would share smiles during a hunting story. I felt extremely fortunate to have finally reached the point that Tony was someone I knew and could carry on a conversation with. This may make him out to sound grumpy and mean, which wasn't the case. He was always polite, but he was Tony Barnes and that in and of itself commanded some respect, even if he didn't expect it. I was just a kid, and I was the one that had to prove myself.
If I couldn't have a pistol, at least I could have a rifle or two that had a Sako action like the ones Tony used to build his pistols. I spend hours bugging Tony for information and searching for rifles that he approved of. I bought a couple here and there as Tony told me the Sako action he used was no longer being made and was becoming more and more difficult to find. Even then they weren't cheap, and for a kid going to college, it took a lot of savings to afford one when they showed up.
One day I was fondling a recent Sako arrival. Tony asked why I had bought it and what I had paid for it. I told him the price and mentioned that I might need the action if he ever decided to build me a pistol. It was a day or two later when he brought in a big piece of wood and asked what I thought of it. I remember him spitting on it to show me the beauty of the grain. It was then when he gave me the cost breakdown of a pistol and grinned at me in a way only Tony could. I had never been so excited in my life!
Over the next several months he would come through the door and the block of wood was slowly changing and resembling the stock of one of his pistols. He would have me hold it, make some marks, grumble, and off he went. He was really fun to be around when I made him hold it each time and took pictures of the progress. I don't know what happened to those pictures, but I will always regret losing them. I paid him for the mounts and rings and told him I wanted it in his own designed caliber….the 6BH. The "B" for Barnes and the "H" for Harrett. If I was going to have a Tony Barnes Pistol, I was going to have a Barnes caliber! I never met Mr. Steve Harrett, but from what I was told Tony and Steve were good friends. Rod Harrett lived only a stone's throw away from the gun shop and was a frequent visitor.
Unfortunately, Tony left us way too early. I still remember the day I came to work and was told of the news. I was devastated. People like Tony don't come around very often and when they do, it's incredibly hard when they leave. Like I said, I didn't really get to do much with Tony other than bullshit with him at the gun store, but for those of you who know him, you will understand when I say he was just a really great guy and someone who was a joy to be around. My pistol wasn't finished and I knew nobody could come close to finishing it the way Tony would have. I guess at the time it meant more to me knowing that Tony was making me one than it did to have it finished. I felt incredibly fortunate knowing he thought enough of me to consider making one for me.
Fast forward to a couple years ago. The roommate I mentioned above was involved in a mountain bike accident and passed away. Another great guy who was taken way too early. My father was actually in the process of restoring his silver edition Jeep when he passed away. The jeep still sits in my dad's shop, mostly finished. Obviously I didn't feel right about asking about any of the guns, but I did tell me dad to tell his son that it would be nice to have something to remember our friend by, should he need to sell any of the guns. I would estimate a year passed when I received a phone call.
I was told that his dad had mentioned Tony was making pistol for me. He also knew the pistol hadn't been finished before Tony passed away. He told me that he had been offered a tremendous amount of money for the gun, which I don't doubt one bit, but he wanted to see it go to someone his dad and Tony would approve of. I don't know if either would approve … but I was humbled. I was able to acquire the pistol and even a rifle that the two of them had made using a Sako action. I wasn't sure what caliber this pistol was in, and it took me several months to get it narrowed down. Incredibly, it too was in the 6BH. Although a set of dies existed somewhere, they were nowhere to be found. About a year of waiting for custom dies to be made and we have arrived at present day. Although I have about 6 pieces of loaded rounds for it, I haven't shot it. I am still searching for 30 Remington brass so some rounds can be loaded. I plan on shooting it, but it means just as much to me to set it on the table and think about all the history and memories behind it.
It's nice to meet all of you, and thanks for reading. If any of you need anything, feel free to email me dukhnt@msn.com
September 11, 2013, 04:13 AM
dukhnt
September 11, 2013, 06:24 AM
Bobcat
Welcome to the forum and thank you for sharing your wonderful pistol!
Bob


------------------------------
I think it better to do right, even if we suffer in so doing, than to incur the reproach of our consciences and posterity.
General Robert E. Lee
September 13, 2013, 12:03 PM
OneGoodShot
Mr Clark,
Welcome to the forum. Somehow I missed your post but I know a few more (Mr. Wayment) will be chiming in here soon. Thanks for contributing to the Tony Barnes Sako topic. Great being able to put more stories behind the pistols. I know of another gentleman who has one with an octagon barrel chambered in 7mmTCU. Keep the information coming.


------------------------------
I'm Ya Huckleberry
An armed man is a Citizen, an unarmed man is a Subject.
September 13, 2013, 02:42 PM
rubbercrutch
Hey Joe, it was great talking to you this morning. I was feeling kind of down when you called but your call really lifted my spirits. Sorry we got cut off but we will talk again (soon, I hope).
It's really great to see your post, dukhunt, I'm not sure I got that right. Where do you live now? I still live here in Twin Falls but my business is in Filer.
It's great to read of someone who appreciates Tony as I do. He is really missed, as is Harold. Did You know Harold Garrison? From your description of the gun store you worked at I assume the owner's first name was Jarvis, is that correct? I know Tony hung out there and even, on occasion, took on a gun repair for them. Tony's first occupation was as a realtor but his first love was guns and the real estate business came in a distant second. Tony and his dad were partners in Barnes Realty.
I had left Herrett's Stocks a couple of years before Tony died so I hadn't seen him for a while at the end. I was still there when he had his motorcycle accident where he was nearly killed. He was having trouble with his motorcycle front end wobbling and he had it rebuilt. He and a friend of his went to Boise on a ride and on the way back they turned off the interstate at Mountain Home and took the road to Fairfield. They were planning to look at some property there. There was a straight stretch of road before getting into the mountains and tony decided to open it up and see how the front end performed at speed. (100 plus). It didn't and went out from under him. Between pavement and dirt at that speed it really messed Tony up. His friend (a policeman) called in the accident report and got a helicopter to take Tony to the hospital in Boise where he was cared for. He was there for quite a while and when I visited him (shortly after the accident) there, they showed me his helmet which was ground through. I hardly recognized him but he was alive. He made a pretty complete recovery from that but cancer then raised it's ugly head. I never knew anything to slow him down as long as I knew him though.
Well, enough for now but Welcome to the board and the madness.
September 13, 2013, 03:32 PM
OneGoodShot
Enjoyed the chat as well sir.
Keep the stories coming, I like the personal touch.


------------------------------
I'm Ya Huckleberry
An armed man is a Citizen, an unarmed man is a Subject.
September 14, 2013, 02:57 PM
rubbercrutch
When Tony was working on a gun nothing could divert him from it until it was finished. He had a very hard time sleeping at night so he would go to bed early and arise about 2:00AM and go to the basement to work on the gun. Almost all of his gun work was done in the wee hours of the morning. That's also when he got most of his ideas (which were many).
About the BF Arms falling block that is pictured in the thread "Welcome Rubber Crutch", that is mine. I was given the barreled action by BF Arms for the work I had done in helping them redesign the grip attachment part of the frame and in designing and tooling the grip and forend for it. I don't remember what they called the caliber it was chambered in but it was based on a .357 Maximum case necked down to a very small metric caliber. To make ammo for it would have been a nightmare so I parked it. One day Tony asked if he could borrow the gun to re barrel to .30 for Shutzenfest competition. Well, of course, no problem. I never saw the gun again for about a year when Tony came to me one day and said "Here is your piece of sh** gun back". He had completely re-placed the inner workings, trigger, sear and cocking lever. The main frame is still original and the hammer is original but the rest of it is "Tony Barnes". He made the grip and forend of French Walnut and they are a work of art. It's not a gun you just pick up, you put it on like the Sako's. He used a 2 groove Springfield barrel in 30-06. Chambered it for .30 Herrett with a full length .30-.30 neck. So the neck is super long. He seated a 300gr .30 cal cast lead bullet deep into the neck and propelled it with black powder.
He didn't do well in the competition because the bullet key holed the target. The conclusion was that he was over loading it and the bullet was traveling too fast. I have never tried to perfect the load because I have had to give up most of my shooting. It's just nice to know that I have a Tony Barnes one of a kind pistol that will never be duplicated. To have been able to call Tony Barnes a "friend" is truly a privilege.
November 01, 2013, 11:05 PM
rubbercrutch
What say we bump this up again. Hate to see it go away for lack of postings. Back to Harold Garrison, he helped me get a 22-250 rifle going that I bought from Steve Herrett. Harold remembered that the chamber had been re-reamed one night when Steve and a friend of his, named Bill Bailey, were sampling Bill's homemade wines. The chamber ended up .035 too deep. Harold expanded all of my brass out to .250 Savage dimension and re sized the neck leaving a .035 false shoulder for fire forming. Worked great and shoots great. Of course the brass won't fit into any other 22-250 now.
We called it the "22-250 Garrison/Wayment Improved"
December 01, 2013, 10:08 AM
OneGoodShot
My dad used the sako to take this nice 10 pt yesterday evening. He said it was too nice to hunt with....I said that is what it was made for.


------------------------------
I'm Ya Huckleberry
An armed man is a Citizen, an unarmed man is a Subject.
December 01, 2013, 08:49 PM
RICHP
Way to go dad, great shot with a great looking firearm.


---------------
love those .41 mags.
December 04, 2013, 06:32 AM
bowstryder
Wow.... great thread!
December 16, 2013, 01:13 PM
rubbercrutch
quote:

e
I can hear that buck now sayin "I'd just die for a gun like that" and he truly kept his word. No gun is too nice to hunt with, "Dad", only too nice to lay down in the dirt and rocks. It's great to know that you didn't modify that gun Joe. I'd just hate to see it changed. LARRY
December 17, 2013, 06:40 AM
Rodent
Tell your Dad, congrats.
That is one fine buck!!!
Mike


------------------------------
Piedmont Sportsman Club
IHMSA #27115
NRA #146349408
EMT-B

December 17, 2013, 11:02 AM
sscoyote
Love reading this thread! You know some would say that a gun like that oughtta' be on a mantelpiece or in a collection. But I think it's just continuing to make SP history with this thread (especially with those fine bucks/pics). Well done sir! Thanks for all the fascinating posts.


Steve
July 21, 2014, 02:25 AM
dukhnt
Here is a well deserved bump. I'd like to keep in touch with some of you guys who knew Tony. Please email me.
I now have brass and dies for my Tony Barnes Pistol. Going to receive some help forming the 30 Remington brass in a week or so from Rod Herrett. Hopefully I will finally be able to shoot it soon.
Hope all of you are still around and doing well.
July 25, 2014, 01:15 PM
blueavenger
I remember this thread, but missed a lot of the later post some how. Reread the whole thing this morning and type this with tears of joy and sorrow on my cheek from the story's.
July 30, 2014, 11:55 AM
Fatbob
Just to say. Wow, great thread. Great firearms. Bump.
November 24, 2014, 05:49 AM
dukhnt
Well, it has been several years since I was lucky enough to acquire the above pistol that Tony Barnes made.
I have since determined the caliber. Rod Herrett was kind enough to find me some 30 Remington Brass several months ago. Rod was also nice enough to help me with some reloading secrets and run the brass through several different dies to size it.
Have some trimming to do and fire forming, but this project is coming along. It seems like it has been forever, but soon, I hope to shoot this pistol.
Im currently looking for a copy of Hodgdon's 2007 Annual Manual to showcase on a shelf to remember Tony and admire his talent.
November 24, 2014, 12:56 PM
dustymoahunter
Very nice! I love the stock. A real piece of art.


---------------------------------
GOD, family, guns, and fishing. That's what it's all about.
November 26, 2014, 10:12 PM
Contender Hunter
Hey Joe, That is a great looking S.P. Hope you are doing great.


------------------------------
Double the Powder and Shorten the Fuse! Capt. Hook
December 01, 2014, 07:52 PM
OneGoodShot
My son at the beginning if the thread is 8 now. Took him to the farm after school today and saw 14-15 does, but no horns. Still hoping to for him to harvest a deer with the sako.
My uncle (one eyed jack) came in last week. He informed me that he hadn't shot the sako yet.....2 shots, both in the black.....he thought he missed.


------------------------------
I'm Ya Huckleberry
An armed man is a Citizen, an unarmed man is a Subject.
January 16, 2015, 03:23 PM
dukhnt
I finally got to shoot this pistol yesterday. After the pistol was in my hands, I had to wait 1+ years for custom dies to be made. Then it took another year or so to find 30 Remington brass, and about another year to figure out all the secrets of converting the brass into the 6BH caliber, and getting it ready to reload.
Yesterday I finally pulled the trigger for the first time since owning it. Original owner had used 80 grain Speer Soft Points with 30 grains of H322 powder. I used 70 grain Noslers with Benchmark powder. Started at 28 grains and worked up to 30 grains. Did not notice any signs of pressure at all. It was too damn cold to shoot at paper for accuracy, but I wanted to finally shoot it. Pointed the cross-hairs at a basketball sized rock that was sticking out in the snow at about 200 yards and could hear the SMACK with each round. I am excited to see what it will do on paper, but at least I was able to shoot it!
April 11, 2015, 03:42 AM
ksbohuntr
This has been the best thread I have read, fantastic looking SP, history,and the appreciation of friendship and craftsmanship. Thanks for sharing.
April 19, 2015, 08:32 PM
bowstryder
Well it's been a while........ wondering if you ever got around to load developing?
November 28, 2015, 10:50 PM
OneGoodShot
Gonna bring this up again for 2015!!!!
Wife had to work Thanksgiving so I had kitchen duty. We were planning to have dinner at 6pm and I had everything prepared and basically ready to go by 4 so I ran to the farm to do the chores. Was moving some horses and this 10 point stood up about 30 yds from me. No gun.... I kept moving the horses until I got back to the barn. Made a 157 yd shot with the Sako. Love this little gun.
My 10 yo son, Tyler, took this nice 9 point this morning with a 6.5 Grendel. Tyler got on this buck Wednesday with the sako but never got a chance for a shot. He wanted the Grendel today. One day he will use the sako to get a buck.
Extremely proud and truly blessed.


------------------------------
I'm Ya Huckleberry
An armed man is a Citizen, an unarmed man is a Subject.
November 29, 2015, 10:30 AM
Dekker
Tell the young man Congrats! on his buck and Congrats! on your buck.
That Sako is one of the slickest looking rigs I have seen.
November 29, 2015, 01:31 PM
TXBRASS
Congrats to the both of you. Love the looks of that Sako....
CW
**********************
Get your W-GEAR shooting accessories NOW!
SP Scabbards, Rear Rest Bags, Ammo Bracelets, Front Rest Bags, & more...
Made in USA with a LIFETIME warranty!
www.codyweiser.com
- SHORT STICK BANG GANG -
November 29, 2015, 04:03 PM
mrk1500
What an awesome topic! I am partial to these craftsman. They are truly artists.
I would bet your son scores on a nice buck with that Sako next season.
Congrats to you guys deer and they way your son is being brought up!
December 02, 2015, 10:09 AM
one eyed jack
Congrats grate nef. and grate grate nef.on two nice bucks.I wish I could have been there with you to