The start point for the button is a 1/4" x 2" carriage bolt.
I chose this size because the square shank under the head is just about the same width and the shelf left in the inlet.
Step 1.
Clamp the bolt in a sturdy vise by the square shank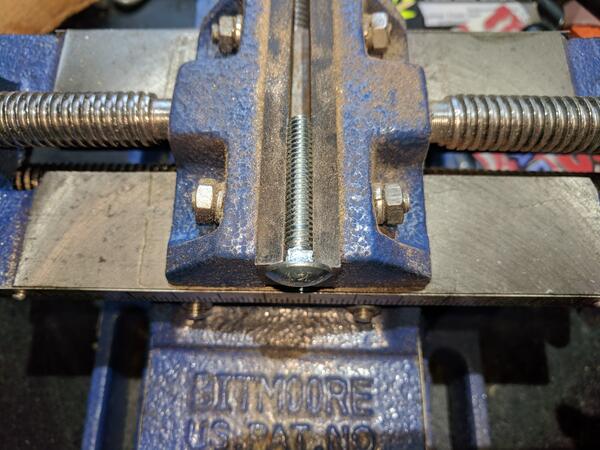 Use a Dremel (or file) to reduce one side of the bolt head to be flush with the shank.
Once complete, rotate the bolt 180 degrees and remove the opposite side of the bolt head.
This will leave us with a "foot" to engage the bolt release, so if your hole is a little too far forward or back we will still have a functioning button.
Step 2.
Mark and drill your stock.
What you want to accomplish here is to have the button move square to the bolt release.
You can get your measurements from the action itself by measuring from the centerline of the action and from the rear action screw.
Once I had the measurements from my action I transferred them to a template and then used the template to mark my stock. I use the rear action screw to hold the template in place while I mark the drill location.
Step 3.
Drill the stock.
For this you will want to use any conbination of vises and extra hands (not enough hands to take pics) so that you are drilling trough the stock square to the action inlet.
I set the stock so that the length of the action inlet (front to back was level) and the stock was level across the inlet (left to right).
Once this was all level and square to the drill bit I simply drilled the hole through the stock.
I start with a very small bit and drill slowly. Once that hole is established the hole can be opened to the diameter of your choosing.
I drilled this stock to a final size of 5/32".
This message has been edited. Last edited by: Freeze,