Specialty Pistols
Long action caliber?
June 14, 2020, 11:34 AM
Gator T/C
Long action caliber?
I am building a centergrip long action for a friend and looking for caliber suggestions. This action has a .474" boltface. He is interested in 25/06, just looking for good suggestions I may not have considered. Primary use will be target shooting and possibly deer hunting.
Brad


------------------------------
Contender 22LR, 17MachII, 17HMR, .223(SSK), 6mm Gator, 6TCU, 6mmJDJ(Van Horn), 25x47(Coyote), 6.5 JDJ(SSK), 7x47(SSK),308 Bellm, .338 SSK Woodswalker (2),358 Bellm, 375Win, 375 JDJ(SSK), 45/70(SSK), 45/70 (VanHorn), 50-70(SSK)
Encore .243, 7mm–08, 300WM(15-1/4"), 50-90(MGM, 14"), 50–110 (MGM), .50ML(16")
XP-100 .223, .223AI, 6mm204Imp, .243AI, 6BR
XP-7 .223,.243,.300Blackout, .300RSAUM
XP-700SA .22LR, .243
XP-700LA .25/06, .270AI, .300WM,.338 Lapua, .510 Whisper
June 14, 2020, 11:48 AM
LoneStar
Oh no, not another "what cartridge should I get" thread! Long range (400 yards +) deer hunting and target shooting? Short range brush shooting? Tiny blacktails or big muleys? What level of accuracy does he expect?
You'll get responses from the 6.5 Creedmoor to the .35 Whelen. Heck, some will recommend opening the bolt face for a 7mm Mag. My input - if your friend wants a .25-06, build him one!
.


.

"The 30-06 is the world's most over-rated big game cartridge" - Elmer Keith

June 14, 2020, 02:16 PM
Ernie
Build him what he wants.
You can always give other options: 25-284, 25 Creed, or open the boltface for a 25 PRC or SAUM.
Like what has been already mentioned: uses, distance, animal size, heavy or light weight.


Ernie (xphunter) "The Un-Tactical"
WY-SHOT 2022 June 20-22
June 14, 2020, 08:50 PM
tgp
A 7 twist barrel for a 25-06 shooting the 131 gr Blackjack bullets could be long range fun!
Glenn


------------------------------
"Evil, unchecked, is the prelude to genocide. - Anonymous"
― Joel C. Rosenberg, The Auschwitz Escape



June 15, 2020, 12:04 AM
PotatoJudge
All I would add is you could counsel him on efficiency for his chosen barrel length and caliber. Help him match the case to the barrel length and bore diameter so he gets an efficient choice without unproductive blast and recoil.
June 15, 2020, 01:04 AM
Ernie
Personally, I wouldn't worry about efficiency.
I look for a specific performance level.
Even with large cartridges for the bore and barrel length shoot great.
In the end, the customer is right...It is his money.
25-06 Improved or a 25-280AI
I have a center-grip XP-100 in 25 PRC coming.
Using ADG 6.5 PRC brass and twisted for the 131 Blackjacks
I have a 25 Creed in a Pachmayr Dominator.


Ernie (xphunter) "The Un-Tactical"
WY-SHOT 2022 June 20-22
June 15, 2020, 09:15 AM
Gator T/C
I finished everything except the safety and the barrel. I put a barrel on temporary just for fit and feel. I am pretty sure i am going to mill a relief in the action on the right side for a conventional xp-100 safety which will be on the right side of this left hand action! The stock worked out really well.
Brad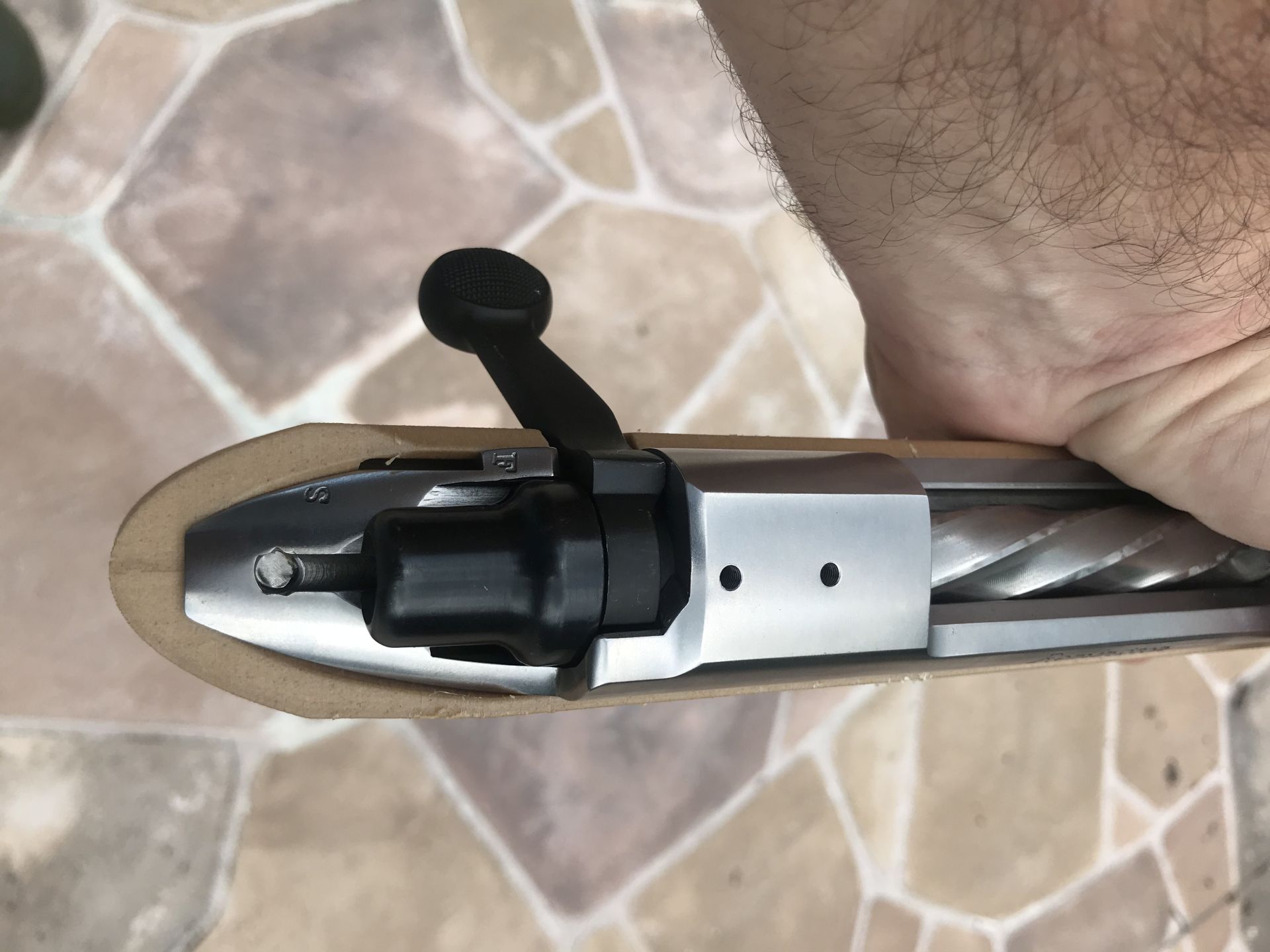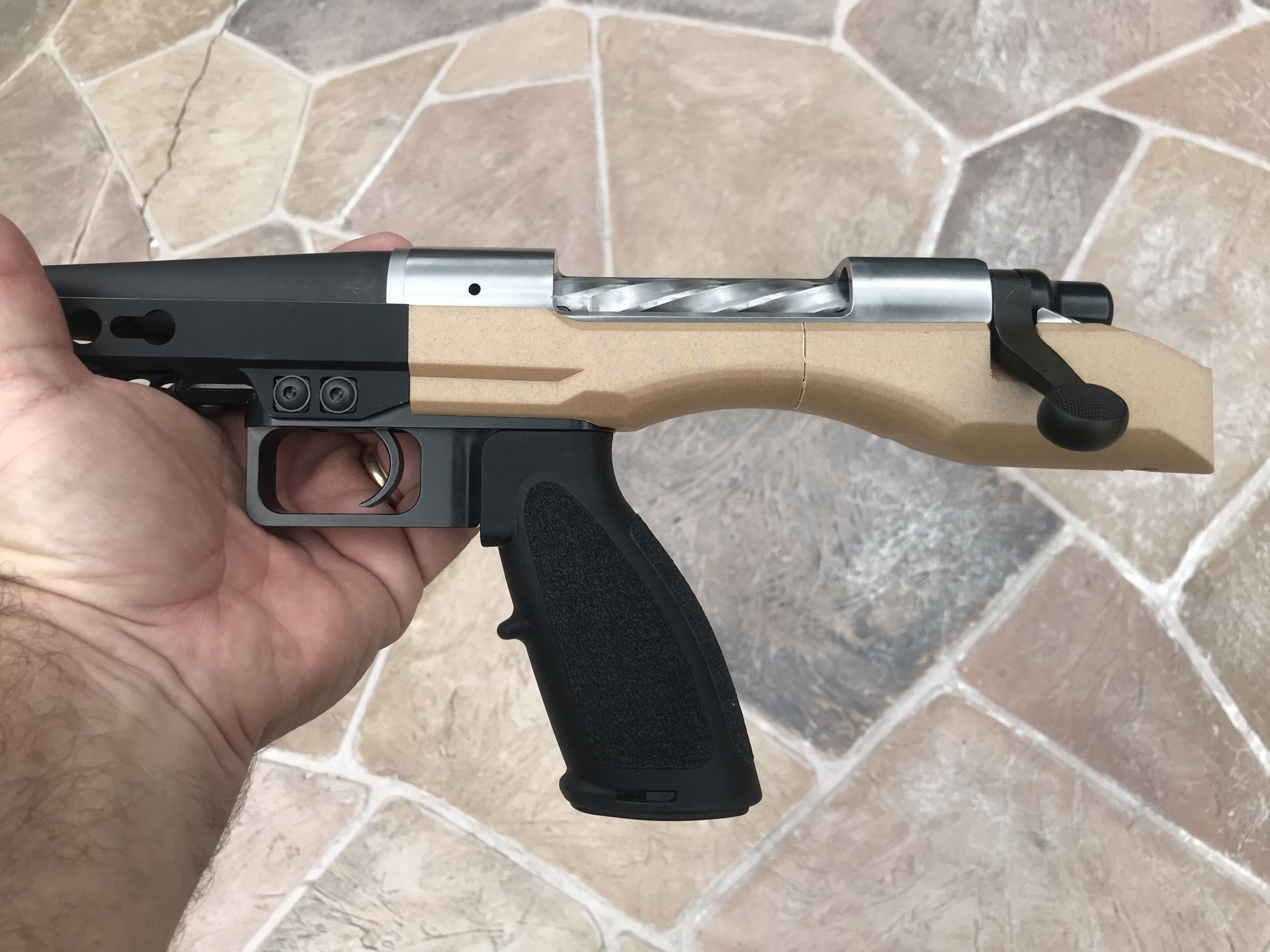 ------------------------------
Contender 22LR, 17MachII, 17HMR, .223(SSK), 6mm Gator, 6TCU, 6mmJDJ(Van Horn), 25x47(Coyote), 6.5 JDJ(SSK), 7x47(SSK),308 Bellm, .338 SSK Woodswalker (2),358 Bellm, 375Win, 375 JDJ(SSK), 45/70(SSK), 45/70 (VanHorn), 50-70(SSK)
Encore .243, 7mm–08, 300WM(15-1/4"), 50-90(MGM, 14"), 50–110 (MGM), .50ML(16")
XP-100 .223, .223AI, 6mm204Imp, .243AI, 6BR
XP-7 .223,.243,.300Blackout, .300RSAUM
XP-700SA .22LR, .243
XP-700LA .25/06, .270AI, .300WM,.338 Lapua, .510 Whisper