Specialty Pistols
Switch bbl XP project
August 29, 2016, 04:29 PM
Da-Law-Dawg
Switch bbl XP project
Many of you remember our rear grip project we started here a while back. This was our in house rear grip in 6BR which had an integral lug. After I got her up and shooting, the gears were turning for a switch barrel rig on this set up.
Albeit, the 6BR is a fine cartridge without a doubt. However, I was looking for another cartridge I could add to the mix, something I could both reload for and shoot factory fodder, in a pinch. Having a Bartlien 3B contour barrel in .30 caliber in hand, only made sense to spin her up in .308.
Looking at Hodgdon load data, for Encore length barrels, I opted for a 15 1/2" finish length. At that length, she would get us decent velocity without being too cumbersome. I got to work and the chips flew. We now had a great barrel screwed in and next were thoughts on a muzzle brake.
I conversed with Jon Addis at Area419.com about his new Hellfire muzzle brakes. Shortly thereafter, we had one on the way. When it arrived, I spun her up and got her indexed to the barrel.
After test firing the brake, I was truly impressed by the lack of recoil on this brake. Our initial test fire was sans brake and BRISK with a 168 SMK match load. There was virtually no rearward momentum firing the same load thru the Hellfire.
Now comes load development for her to see what she does. Can't say enough about the Hellfire and we'll be getting some video of the brake in action.
August 29, 2016, 06:10 PM
HandgunHTR
Nice looking rig!


Mike B.


1st Toadie and Captain of the Lemming Guard
August 29, 2016, 07:55 PM
Leupold Man
That's a nice set up Congrats!!!!


---------------------------------
Veteran and NRA Life Member
August 29, 2016, 08:05 PM
nmhunter
Very nice
Nmhunter
August 29, 2016, 09:56 PM
rickiesrevenge
Looks nice.
Aaron
August 29, 2016, 11:28 PM
40xmike
Nice work Jeremy
-Mike
August 29, 2016, 11:32 PM
blueavenger
CFE223 works well in .308
August 30, 2016, 06:44 AM
Ernie
quote:

Originally posted by blueavenger:
CFE223 works well in .308
With 168 A-Max's to boot


Ernie (xphunter) "The Un-Tactical"
WY-SHOT 2022 June 20-22
CW
**********************
Get your W-GEAR shooting accessories NOW!
SP Scabbards, Rear Rest Bags, Ammo Bracelets, Front Rest Bags, & more...
Made in USA with a LIFETIME warranty!
www.codyweiser.com
- SHORT STICK BANG GANG -
August 30, 2016, 10:39 AM
rickiesrevenge
I'm not surprised you like it considering the cartridge.....
August 30, 2016, 10:47 AM
Ernie
quote:
This kills me every time I see it


Ernie (xphunter) "The Un-Tactical"
WY-SHOT 2022 June 20-22
August 30, 2016, 06:01 PM
tgp
Looks like a winner Jeremy, even with the 30late caliber.
Glenn


------------------------------
"Evil, unchecked, is the prelude to genocide. - Anonymous"
― Joel C. Rosenberg, The Auschwitz Escape



August 30, 2016, 11:28 PM
Da-Law-Dawg
Thanks fellas! Don't give me too much grief on the tree-o-8!! LOL!
She's gonna be a keeper folks. I gave her a quick, impromptu firing session today out the back 40. The hay was just cut this week and it saved me a trip to the range. Was anxious to see how she'd shoot with some factory fodder I had here in the shop. Also wanted to see how the Hellfire would stack up running her with rifle glass.
Gotta say I'm well pleased on both counts, brake worked extremely well and she is showing good results with factory fodder. A good load will go a long way on her.....
Here's a video of the Hellfire shooting her prone, off the bipod.....
http://vid157.photobucket.com/...5751_zpsyhoi41cb.mp4
Here was the first 3 shot group out of the Bartlien at 100 yards with factory HSM 168 SMK ammo.......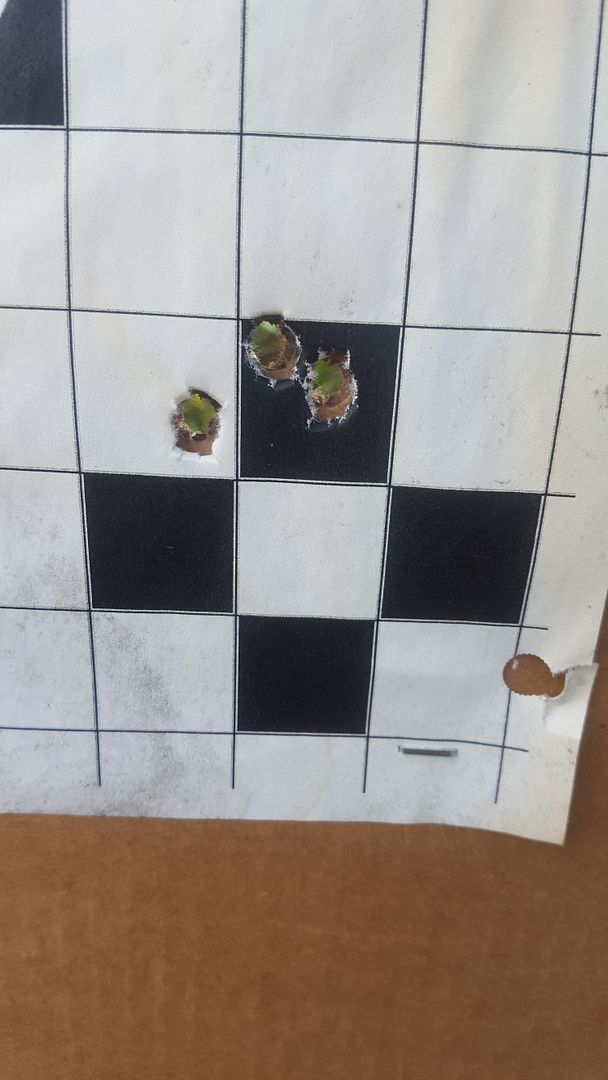 Be a good rig on whitetail and vermin alike here in Ol' Kaintuck......
This message has been edited. Last edited by: Da-Law-Dawg,
August 30, 2016, 11:52 PM
nmhunter
August 31, 2016, 07:05 AM
Leupold Man


---------------------------------
Veteran and NRA Life Member
September 01, 2016, 10:00 PM
SChunter
Looks great DLD!
I was looking over some of Jon's builds last night and was contemplating the Hellfire. Very cool.