Hey guys,
This project has been a LOOONG time coming. It all started in '94 when I bought my first XP. It was rechambered to 22 BR by
Clarence Hammonds
and fitted w/ a black McMillan synthetic stock. I always wanted to repaint the stock black and gold in honor of our local high school (the "Lumberjacks"), but never got around to it. Three years ago I had a second XP built by Mr. Hammonds, this one in 6 BR. He supplied an HS Precision bench rest type stock he'd taken in on a trade. It was a very bright red. Again, I knew someday I'd repaint this stock, as well. Both guns are wonderfully accurate and are used mainly on prairie dog hunts.
This spring I decided it was time for the "BR twins" to have a facelift. 1 ½ years ago I bought an XP in 260 Rem from a fellow SPer. It came w/ an HS Precision bench rest type stock painted gray w/ some white webbing. Unfortunately, in transit Fed Ex badly damaged the base of the grip, nearly breaking it off. Using a liberal amount of 2 part epoxy, I was able to repair it, although cosmetically it wasn't pretty. I decided to swap out stocks and put the damaged stock on the 22 BR. I thought I'd stay w/ the "Black & Gold Lumberjacks" theme for the 22 BR. Unfortunately, a few years ago the local high schools consolidated so the Lumberjacks no longer exist. The consolidated school is the "Purple and Silver Knights". The decision was made to redo the 6 BR into a Knight.
The biggest challenge was getting the old red finish removed from the stock. What worked best was using a coarse abrasive tool in my Dremel to remove most of the finish and finishing it off by hand with 60 grit sandpaper.
I used Aluma Hyde II "Matte Black" spray paint from Brownell's to paint the stock, barrel, trigger, rear bolt, scope base and action on the 22 BR. The paint was applied as per the excellent video on Brownell's web site. The paint normally takes a few weeks to cure, but there are a lot of reports on the 'net of folks successfully speeding up the process by "baking" the painted part in an oven. I baked the bolt and scope base for 6 hours at 170 degrees, but the oven wasn't big enough for the barrel/action. I heated up the larger parts by hanging them up in front of a small space heater. After a few wks, I applied gold and then white Krylon "Marbellizing" spray paint to the stock. I found the marbellizing paint really difficult to control. You can't really spray it on like other paints as it has a mind of it's own; some areas of the stock didn't have enough while others had more than I wanted. The important thing with this paint is to PRACTICE a lot before the final application. Nevertheless, I'm pleased with the final look on both stocks. After allowing it to dry a few days, I applied multiple coats of Aluma Hyde II matte clear coat to protect the finish.
On the 6 BR, I used a dark purple spray paint from Lowe's on the trigger, action, rear of the bolt and stock. I left the barrel and the majority of the bolt the existing stainless steel finish. I used the same marbellizing paint on the stock, but in silver and black. The final coat for this stock was Krylon matte clear coat. I repeated the same curing process on the 6 BR that I'd used on the 22 BR.
I hope the finishes hold up well. I applied Aluma Hyde II to an XP barrel and action 3 years ago and it has been pretty durable. The purple is already wearing some on the safety, but it'll be easy to touch it up as needed.
After all the work, I was relieved to see both guns still shoot well.
Sadly, I've never had a talent for coming up with nicknames. Consequently, now's your chance to help me with some good nicknames. Give me your best suggestions...."Black Death", "The Knight of Death", "Purple Death," etc. I know, they're all pretty lame
; now you understand why I'm asking for your help.
Before pic of 22 BR stock (w/ 260 Rem barrel)
Before pic of 6 BR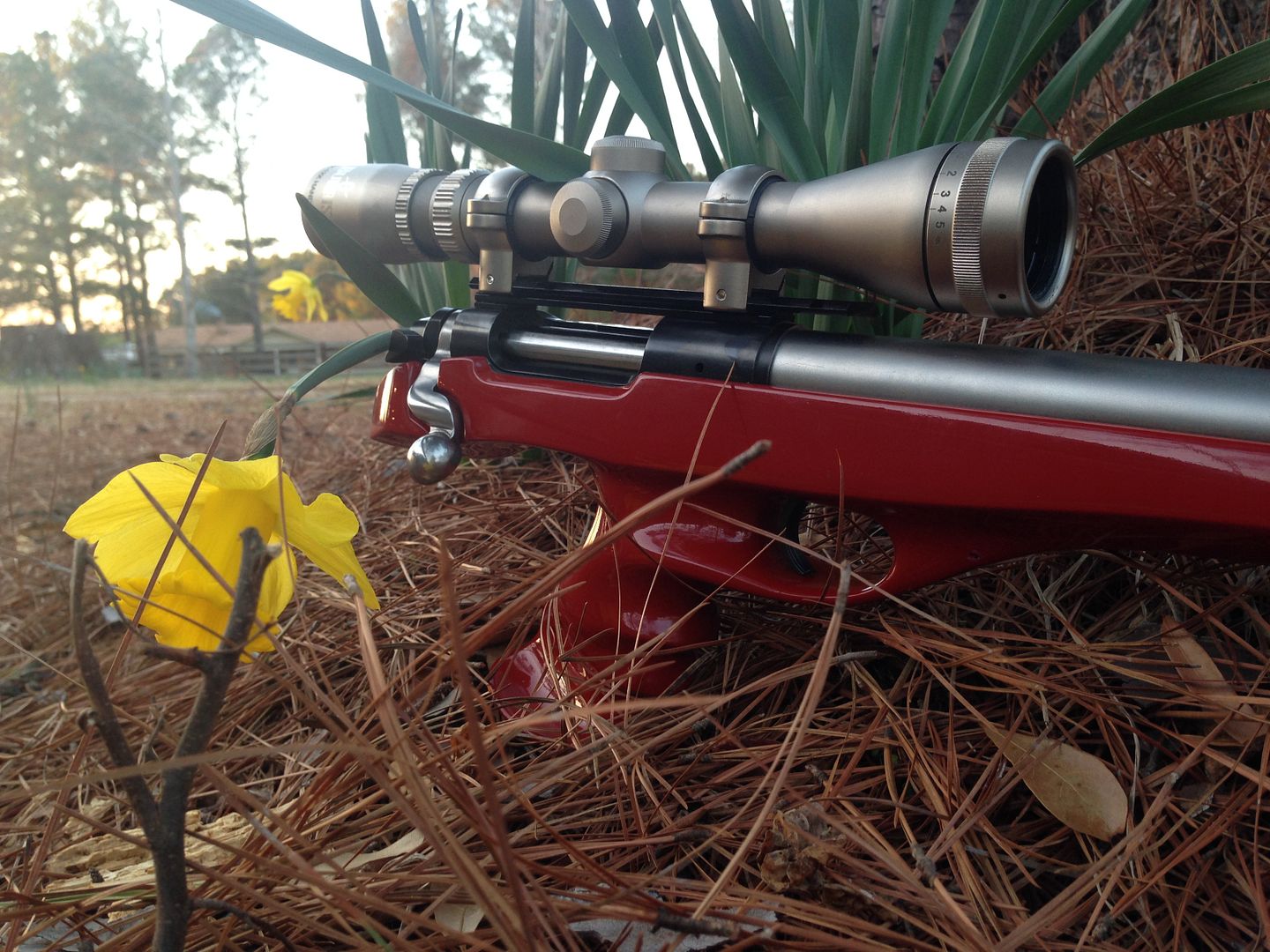 After pic, 6 BR top, 22 BR bottom
22 BR at 100 yds
6 BR at 100 yds
This message has been edited. Last edited by: Gary T,


Good luck and good hunting.