Specialty Pistols
Bolt build has begun...
June 25, 2019, 09:43 AM
Predator_huntin
Bolt build has begun...
Hey guys, I wanted to post some pics and share some info...I've started my bolt build. I took a Savage 12fv in 223 that I had to Shultz Precision Rifles (he's very local to me and done great work for me). JR cut the barrel to 17" and threaded the barrel for me. This morning I started work on the Choate Ultimate Varmit stock, cut it down with a hack saw and began the dreamer/sanding work. Dremel'ed the rough parts and then started sanding. I started with 220 grit and the finest I had on hand was 800 grit. I've got to pick up some finer grit today to finish it off. I'm waiting on a 3D printed single shot sled from "andrewsben" over on accurate shooters forums, he sells them on ****. He's printing me a bright orange sled that is sand to fit your stock inletting, so as soon as I get it fitted I'll put the scope on top and hit the range. It's a large setup with the long barrel, but this was a very economical way for me to try the bolt pistol route...if I like it this 12fv will go back into the rifle stock and I will be getting a virgin action from Northland and starting a 6.5 Grendel build on it and this stock. Here's some pics of the process, in the bottom two pics the action is just sitting in the stock not bolted down yet
Cutting...
After Drexel work...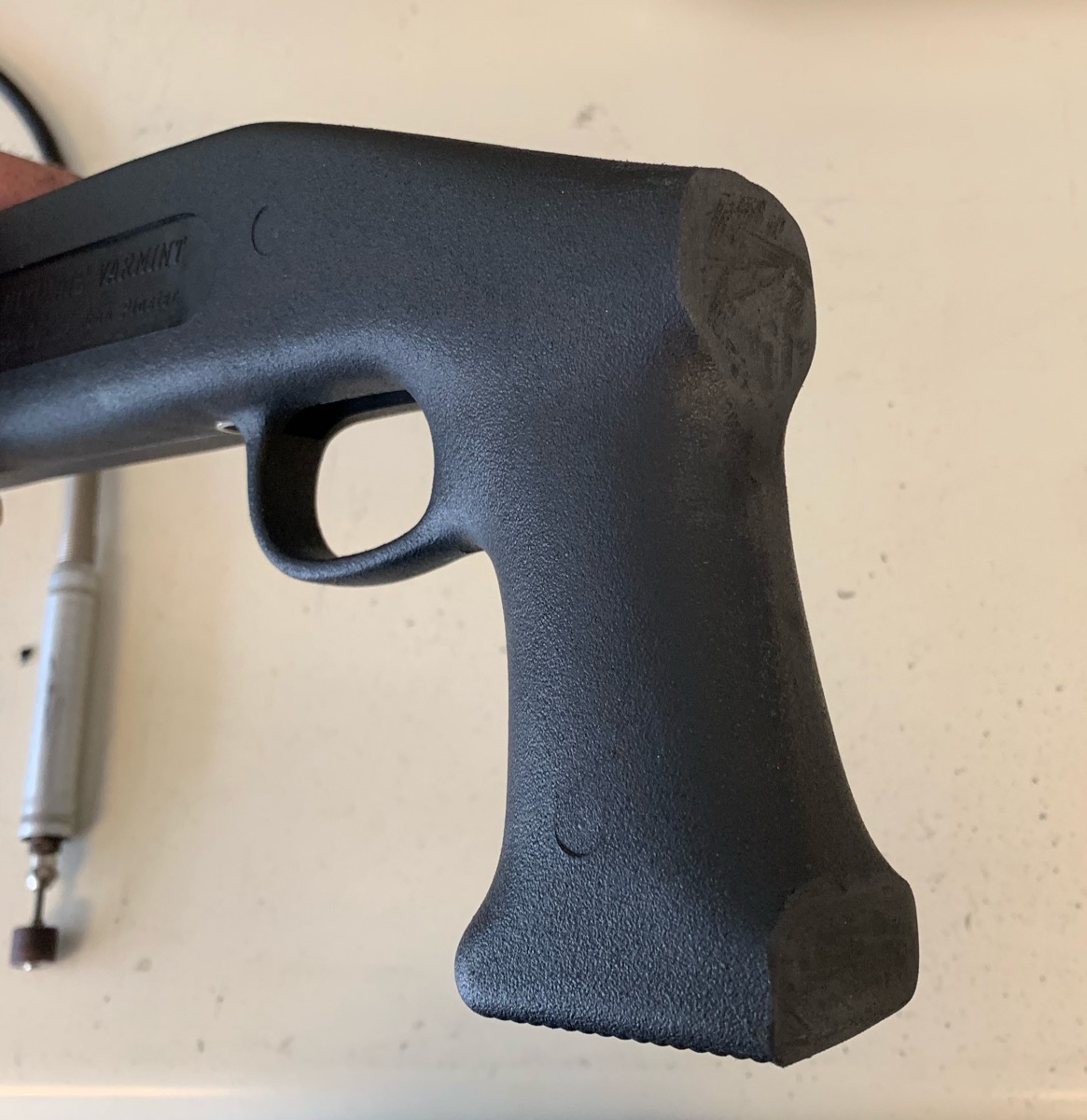 Pick of sanding so far with the action in...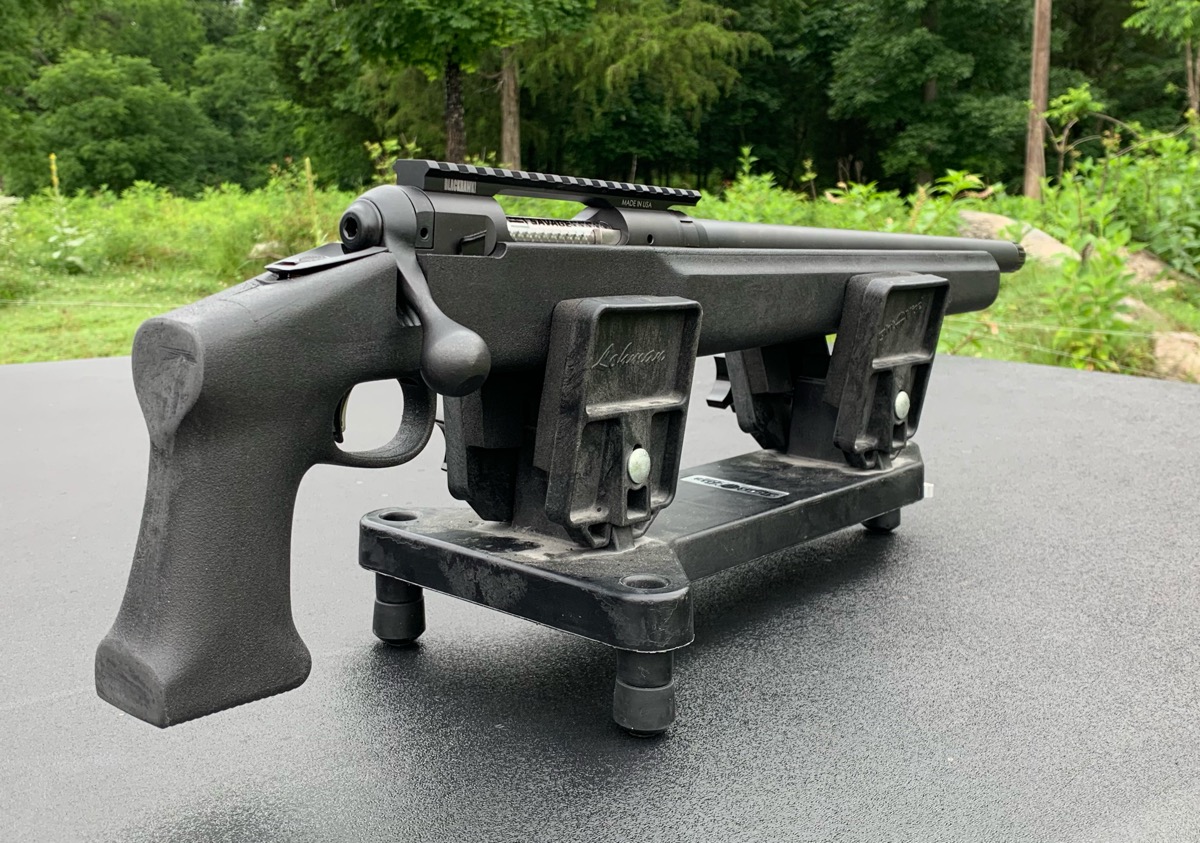 Side profile...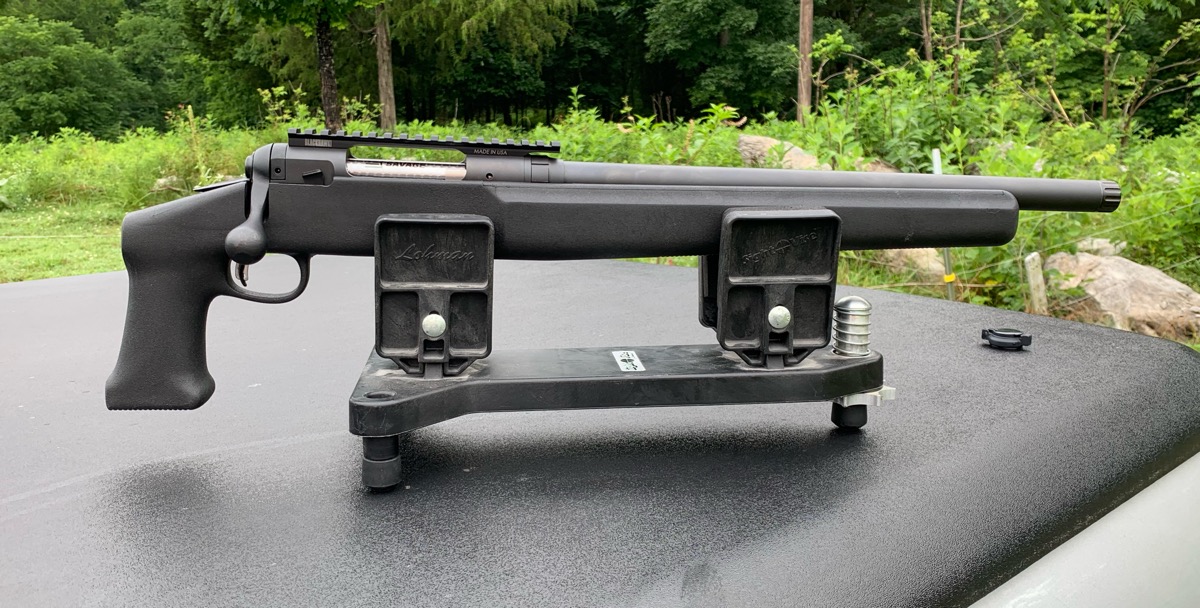 Chris
June 25, 2019, 11:46 AM
Iowa Fox
Looking nice Chris. Keep us posted on your progress.
Jon
June 25, 2019, 06:40 PM
jsh
Chris, if that follower gives you grief let me know. He made up a few for me. I was trying to get a 17 fireball to feed. Had to epoxy one up.
I had my action all apart and turned a bar the same size as my bolt body. Used the bar to get the clearance for the bolt. A lot of guys have had problems with the little cases feeding. I won't say it is 100%, but it is a good 95% on just closing the bolt and getting it to feed. I need to take this one out and send to him for a pattern. Works equally well for 17 Remington and 204.
FYI, I used some gorilla tape to hold mine in place to check feeding out of the stock. Easier than trying to jockey the magazine spring into place.
I have come to hate these center feed actions.
Jeff


---------------------------------
G whiz, it's a Contender or a G2, never was a G One!
June 25, 2019, 07:38 PM
Predator_huntin
Jeff,
Thanks for the reply and offer for help. He's doing me the blind magazine box version since that's what this stock is, and he said it would be slightly taller than needed for me to sand off the bottom until feeding is right. This one won't have a spring at all, just a 3D block in the stock inletting. He said he redesigned one for smaller cartridges to feed better with more angle towards the chamber...he had them in stock in black but I wanted a higher visibility color to see inside easier so I'm waiting a few extra days. I could easily pull the factory savage blind magazine out of the original stock but I wanted to play with it as a single shot so I went that route...


Chris
July 01, 2019, 09:53 AM
Predator_huntin
I did the final shaping and sanding this morning before it got hot in the shop, I'm start to like the way this feels. The blind mag single shot block should be here this week and once I get it fitted I'll bolt the Bushnell Elite 10x40mm mildot scope on top and go to the range. I've got the accutrigger tune on the savage 12 tuned to a little over 2 pounds. This is coming along nicely me thinks...


Chris
July 01, 2019, 11:56 AM
Iowa Fox
Nice job Chris. They actually feel better in hand than they look. On mine I knew that the ribs on the bottom of the grip would never slide well on the bag. Choate was kind enough to send me a spare trap door at no charge for me to play with. I cut a piece of 1//4" thick scrap aluminum for the bottom of the grip and attached it to the spare trap door. I drilled two holes in the aluminum for the attachment screws to the stock. It looks good and slides nice. I hear that Jard is ready to release a Savage trigger that is safe from 2-22 oz for the Savage. Hope so because triggers have always been a weak spot for Savage.
Jon
July 01, 2019, 03:19 PM
Predator_huntin
These really do feel better in the hand than they look like they will...I was worried about that but it was for waste. I normally shoot bolt rifles with my thumb on the right side of the grip as to not impart movement on the gun at trigger break and the little groove there on the right side is about perfect for thumb placement. I was thinking something along the same lines as your aluminum grip cap also, the grooves would be a hinderance for a rear bag slider...I've got a ton of thick kydex and was thinking the same thing about bolting a cut to fit piece smooth side down to the bottom grip cap...I almost sanded it smooth on the belt sander but thought your idea would be better.
As to triggers, I'm pretty happy with the feel of this one around 2 pounds. Once I get some range time with it I may go with a lighter one though.


Chris
July 02, 2019, 12:21 PM
Numunuu
Thanks for posting this and please continue to update. I have wanted to get into the world of bolt action specialty pistols but not wanting to spend a lot of money, and this looks like a good way to start. by the time I get an action and barrel and stock it is already out of my current budget.
BUT I do have a Model 70 in 30-06 that I pulled out of an old house I was clearing out for an elderly woman who gave it to me. It is ROUGH, someone put a front sight on it that is crooked and the buttstock has been chewed up. I always thought of cutting it down and putting it in a cheap stock as a rifle, but your build has now got me thinking of doing it up like this.
I have a Choate stock headed my way and will take it to my gunsmith for a chop job this weekend. 17 in should keep me above the 26 in overall length.
I do realize that it will not be quite as nice as a dedicated SP rig, but for the price of entry I think it will be a fun shooter! And if I don't like it I can always put it back in a rifle stock.
Thanks for the ideas and inspiration.
John
July 02, 2019, 12:46 PM
Predator_huntin
John,
That was my thinking also, cheaper way to play with a bolt pistol and if I don't like it then it can go back in its rifle stock. But so far I'm loving just working on it. Can't wait to shoot it.
As to your barrel length, 17" will easily keep you over 26" because yours is a long action. Mines a short action and with a 17" barrel mine overal is 26.5"


Chris
July 06, 2019, 12:18 PM
Predator_huntin
Well it is finished! Now just have to head to the range next week and see how she shoots. I fitted the single shot sled block to the action this morning and feeding couldn't be better. I couldn't be happier with the look of the orange sled inside the stock. Here's some pics, hopefully next week I'll have some target photos to share...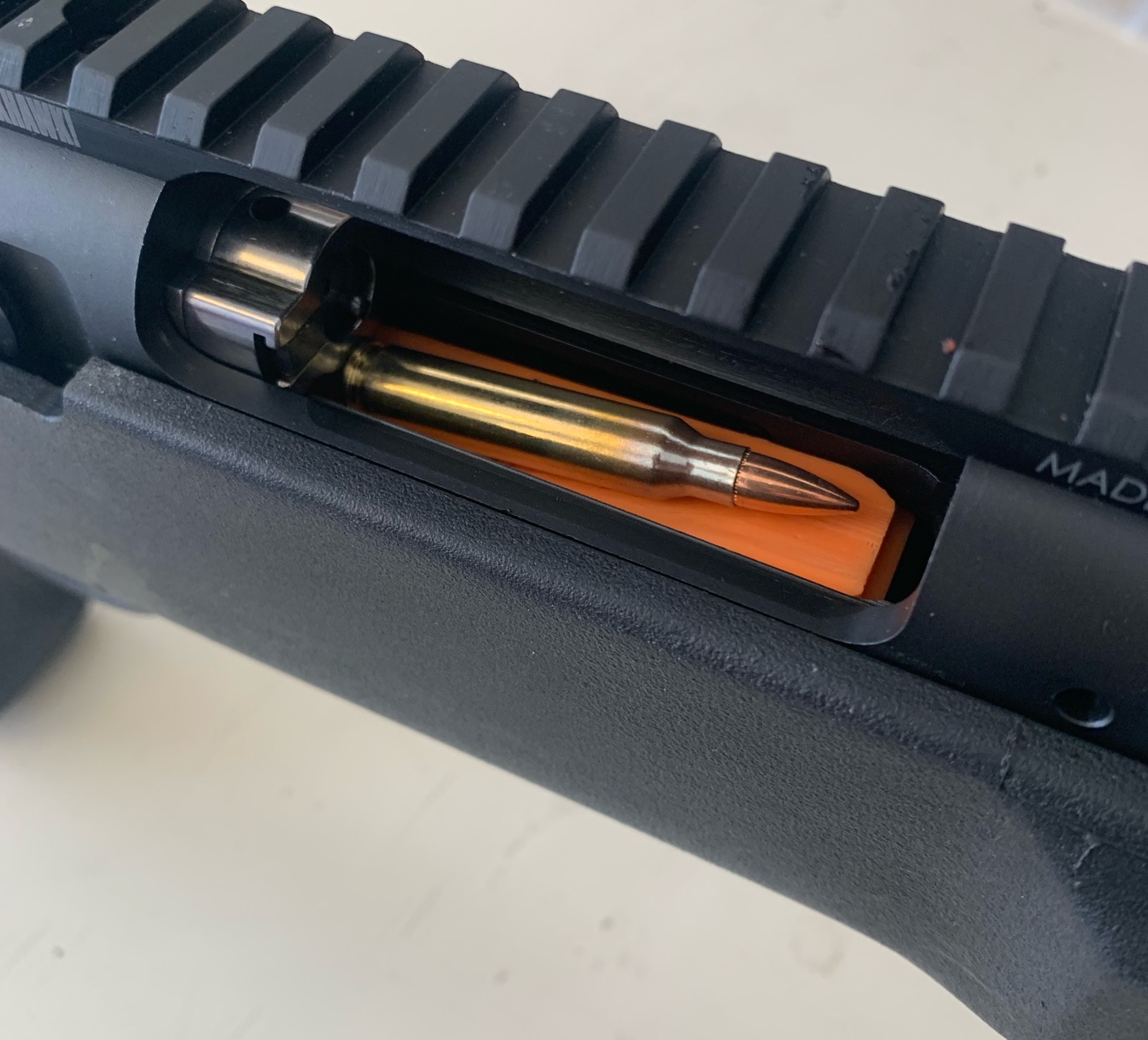 Chris
July 06, 2019, 12:19 PM
Predator_huntin
Trying to post a video of the cycling...I couldn't get the video to embed but manage to get it to work as an external link
Savage Cycling
This message has been edited. Last edited by: Predator_huntin,


Chris
July 20, 2019, 07:28 PM
Predator_huntin
Went to the range this morning with this one...it was different to say the least. I'm not going to give up quite so quick on it but right now I still like my TC's better...it may just be that this one is so large. It shot pretty good but this one did before also, I'll play with it some more before I make any definite decisions about its future...


Chris
July 20, 2019, 08:54 PM
Numunuu
Man that came out pretty nice!
I am planning to do this on a Winchester 70 in 30-06 that I mentioned earlier in this thread. I got the stock in and dropped off the barreled action off at the gunsmiths to get cut. Can't wait to get it back and try it out.
Mine won't look as good since it has a shorter weight barrel so it might look silly, but should still be fun.
I don't know if I'll like it better than my TCs BUT....the rifle is pretty rough and wasn't getting used anyway so at least now it will get shot, and if I don't like it I figure I'll put it in a full Choate stock and have a short carbine to kick around.
Thanks for posting this, definitely looking forward to the range pics!
John