July 15, 2017, 03:41 PM
tinkerer
Flag Striker
Just got done with this flag Striker. New pattern for me, interesting but a pain to unmask. Will be part of a Pistol pak coming soon.
Kinda like it.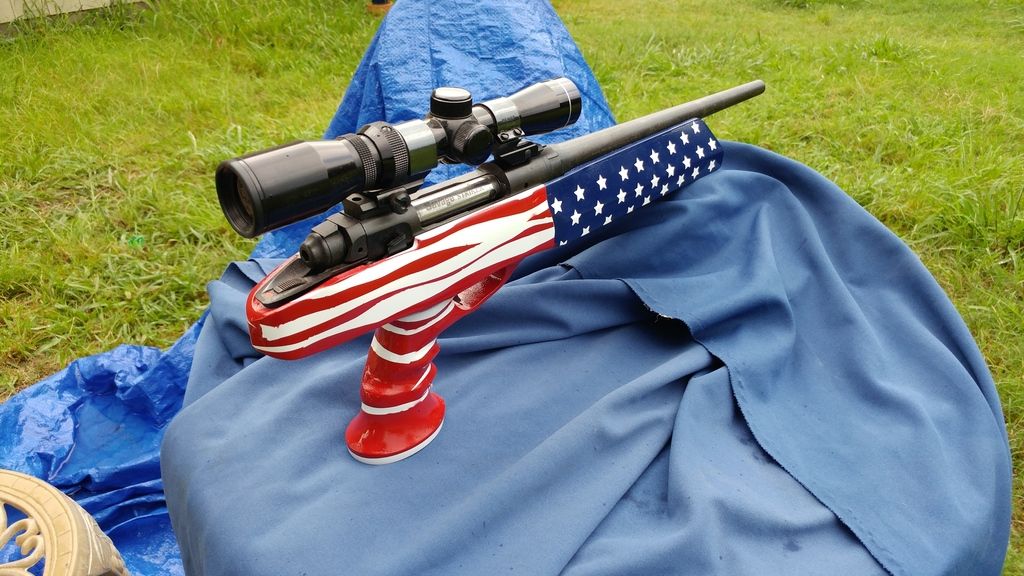 Larry
Tinkerer
This message has been edited. Last edited by: tinkerer,
July 15, 2017, 04:21 PM
old leghumper
Need to find another picture hosting site. Photobucket no longer works unless you pay.
July 15, 2017, 07:01 PM
Nitemann
Larry if you look at your post your pics are not showing. Photobucket now requires you to pay $400 a year to show pics on the net. I and many others no longer have photobucket accounts.
Rick
July 15, 2017, 07:26 PM
tinkerer
OK, weird. I see my pics, but you can't?
Can I post pics from my computer? Alternatives?
Larry
Tinkerer
July 15, 2017, 09:08 PM
Nitemann
Nope, no pics for us, just the dreaded update your account statement from PB that's appearing all over the net. Surprised you can see the pics as when they stopped mine I could no longer see them as well. Go to the campfire section, some alternatives have been posted there.
July 17, 2017, 09:50 AM
Freeze
Larry,
This is the advice I received from another forum member (Smokin7mm):
For posting pictures I use Tinypic as it doesn't require registering or anything. Pretty easy. Here are the steps.
Uploading Photos with Tinypic
Here is what I do, no need to register, sign up or anything. Go to
http://www.tinypic.com
Under Upload Images & Video click on Browse.
Find the image on your computer.
Double click on the image.
Under Resize, choose 'Message Board'.
Click on UPLOAD NOW.
Type in the code.
When a new window opens, click on the bar below IMG Code for Forums & Message Boards
Now just click in your post and paste where you want the photo.
Good Luck,
Freeze
July 27, 2017, 09:12 PM
tinkerer
OK, I keep getting inquiries I can't answer.
I hope its OK to post a link to my PB page for examples of my work.
Larry
Tinkerer
Tinkerers photos