After this year's trip to WY-SHOT, Ernie hooked me up with the makings of a new project. I set out to put an XP together that would serve as a good hunting rig, yet something you wouldn't see every day.
I had an XP for the donor, a new McMillian center grip stock and a Lilja fluted 6.5 8 twist tube to work with. The barrel was originally lightly used in 6.5 WSM and chambered by Allen Precision and was outfitted with one of his brakes. I didn't want a magnum cartridge and wanted something unique in the XP. Hoggin and I conversed about it on the drive back from Ernie's. Numerous 6.5's came to mind for us both and I settled on the faithful 6.5x55 Swede. Moreover, the 6.5x55 AI.
After a lot of research and reading, the Swede in the Improved version seemed to fill the niche. All the attributes of the other 6.5 offerings and them some. Better case capacity than the 6.5x47, Creedmoor or the .260 and fell right on the heels of the 6.5/284. Plus, I've never seen one chambered in the XP. Having owned and shot the standard Swede in years past, I knew it'd do great in the scope of what I was after.
I went thru the action, later added a PTG Nosler/Lawton bolt release and opened her up for 8-40 screws for the base. I then set out on the barrel, I cut the existing chamber and throat completely out and readied her for threading. Next addition was a large, spiral fluted bolt from PTG set up with the Sako extractor. I turned out a knob afterwards out of 6061 aluminum stock.
Lastly, the stock was worked on a tad. I had to open up the barrel channel a bit for the straight bull barrel. Afterwards, there was quite a bit of flex in the fore end. I milled out a channel in the fore end and added steel stock which was bedded in and finished out with the barrel channel. This really stiffened her up and got rid of the flex. I drilled and tapped a bipod stud in while I was at it.
To get her off the ground, I ordered in some new Lapua brass. Next, a call to CH4D and dies were on the way. I loaded up a test round or two and gave her an impromptu test fire and checked the brass over. Satisfied all was well, now comes bedding and finish work.
Figured I'd throw a few teaser pics out there for you all to look over......
Here she is after test fire and ready for bedding and final finish work.....
Close up of the PTG bolt, love the looks of her......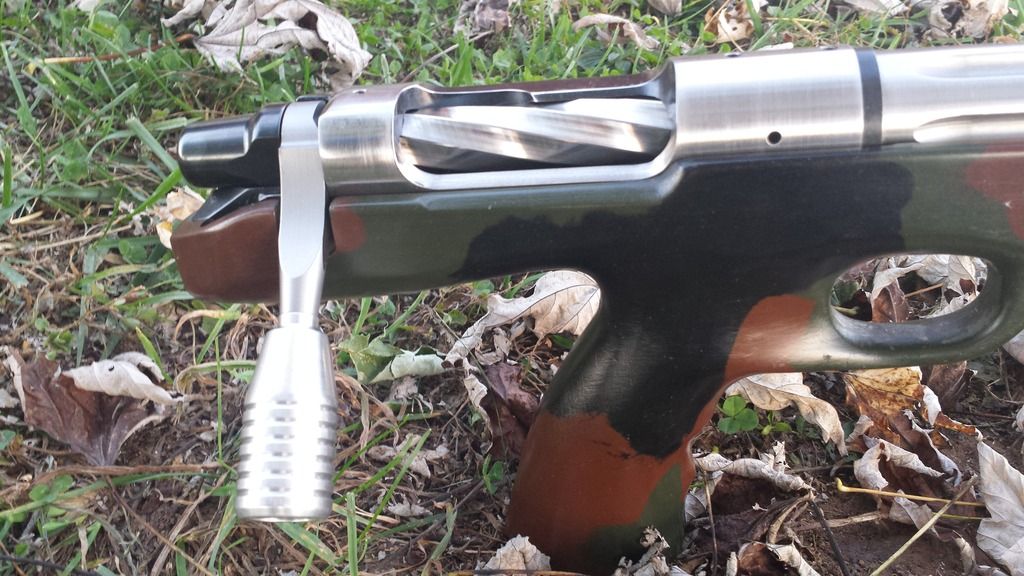 A look at the Nosler/Lawton bolt release install.......
For those not familiar with the 6.5x55, here's a pic for comparison. 6.5 Creedmoor on left and formed 6.5x55 AI on the right......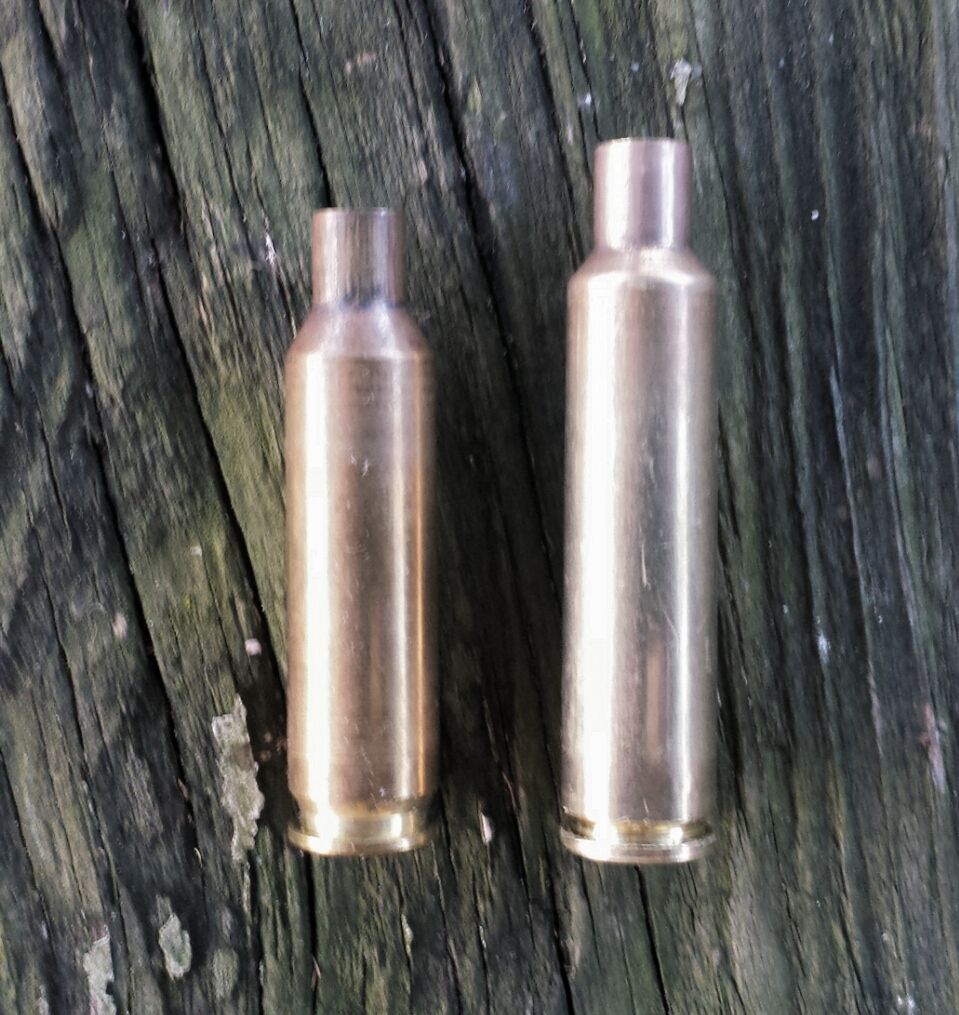 If I did my research correctly, she ougtha run right on the heels of the 6.5/284 performance-wise and make a great hunting cartridge. In a 14" bbl plus brake, she's awfully handy as well.