Specialty Pistols
New XP build
July 21, 2016, 12:31 PM
Da-Law-Dawg
New XP build
We're finishing up a build for one of the members here in the shop. We started with a bone stock XP and ran this one from the ground up. We're now on the back end of the build and she'll be heading to the range here in the very near future.
After we tore down the stock XP, we set to work on the build. We were supplied with a boat load of parts from the customer and went to making chips. I'll outline the specs and work below in the post......
Caliber for this build is one of the "original" short mags, the 6.5 Remington Magnum.......
Receiver......
We went thru the action, got her squared up and ready for the barrel. Besides squaring her up, I added a Nosler-Lawton external bolt release from PTG. She was also set up for the 4 screw mount from EGW and the screw holes were drilled and tapped 8-40. We also fitted a new, custom bolt with M-16 extractor and spun up a knob for the bolt.
Barrel......
We were supplied with a new 8 twist 6.5 fluted McGowen barrel by the customer. We received a spec'd out PTG reamer that the customer ordered and had Dave Kiff grind to his desired specs and matching Go Gauge. After chambering the bbl, we added the supplied Ross brake.
Stock......
We started with a stock HS Precision center grip, as supplied by the customer. I knew going into the build, we'd have to "shore up" the forend for the heavy, straight taper McGowen tube.
I started by opening up the bbl channel to accept the new tube. Once we got her sat in, it left us with about 1/16" of fiberglass on either side of the bbl. That's when the "fun" started.
I built up the forend of the HS by hand laying fiberglass to beef her up. After several layers of 'glass, we got her where we wanted her and floated the bbl. Once we were satisfied, the stock work continued with fill work and smoothing her in.
Lastly, the bolt release and safety notches were milled in. That only left filling the factory bolt release hole in the bottom of the stock. After those items were taken care of, she was smoothed in and primed for finish.
Finish work......
The barreled action received Flat Dark Earth Cerakote, the bolt release was contrast coated in Graphite Black, along with the EGW base.
The stock was given an earth tone Kryptek camo pattern done in house, sealed in flat clear auto grade top coat. We were supplied with stencils by fellow member, Cody Weiser, aka TXBRASS here.
Below are pics of the build process.......
Milling in the bolt release......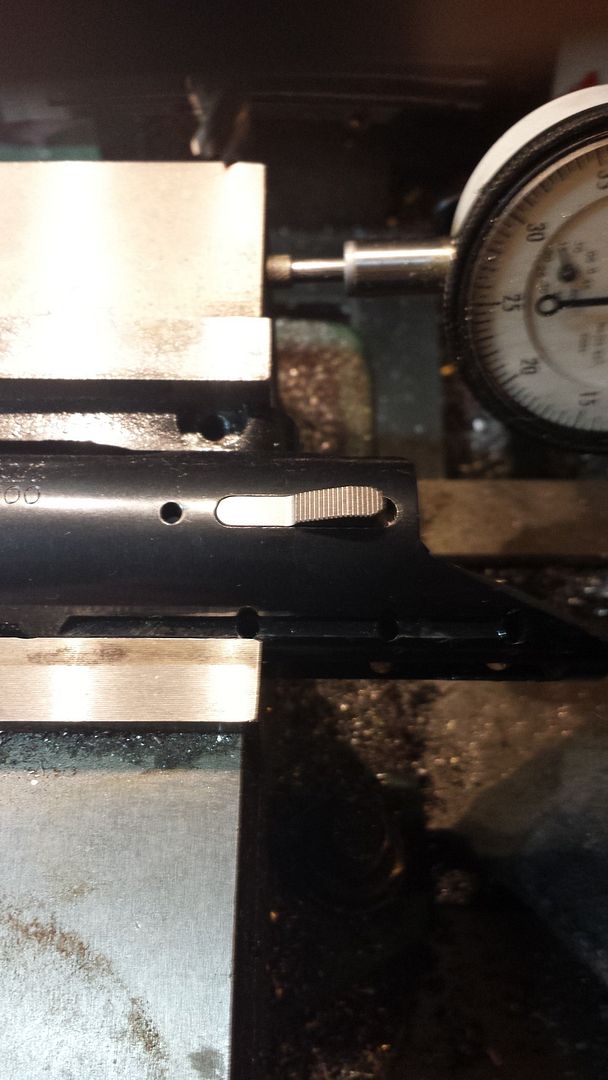 Shots of the bolt release, release notch, safety notch and rear mount holes......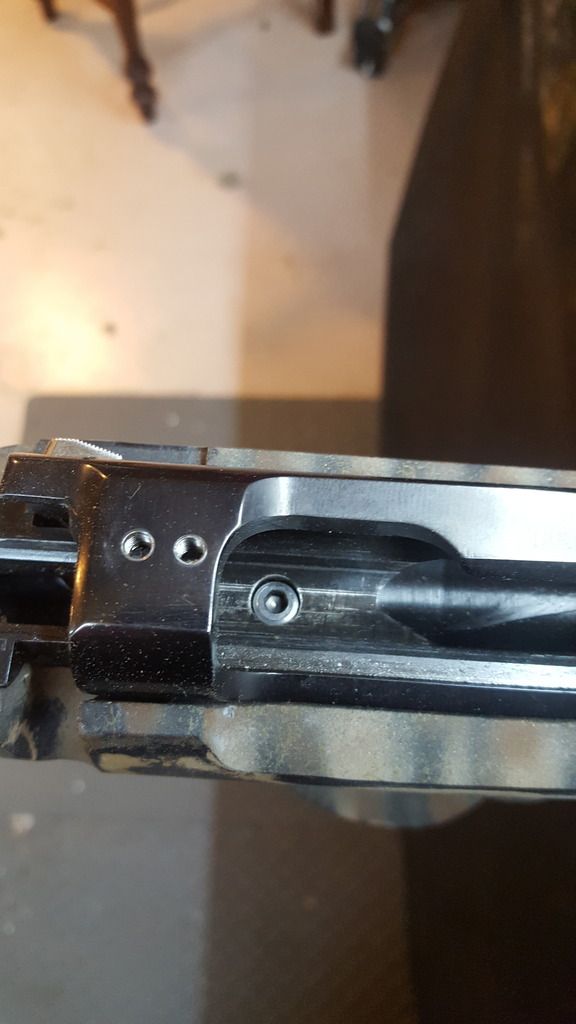 Fill work for the factory bolt release......
Some pics of the stock mods on the forend......
Note how much we built up the forend......
Here's the same stock after build up and fill work, primed, ready for finish......
Here she is after coating the action and our base coat on our stock......
Lastly, pics of the rig after the stock received her color and was cleared......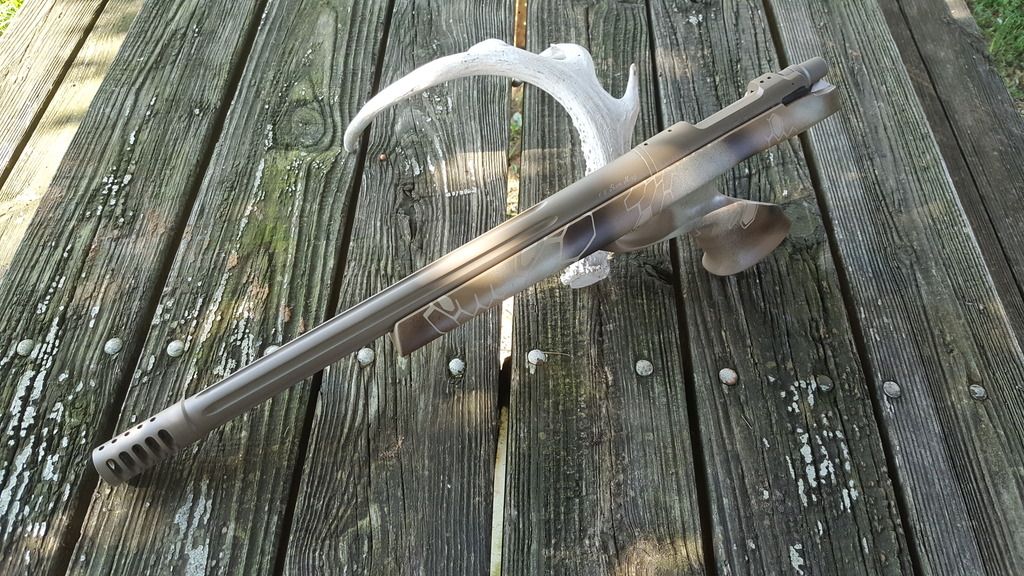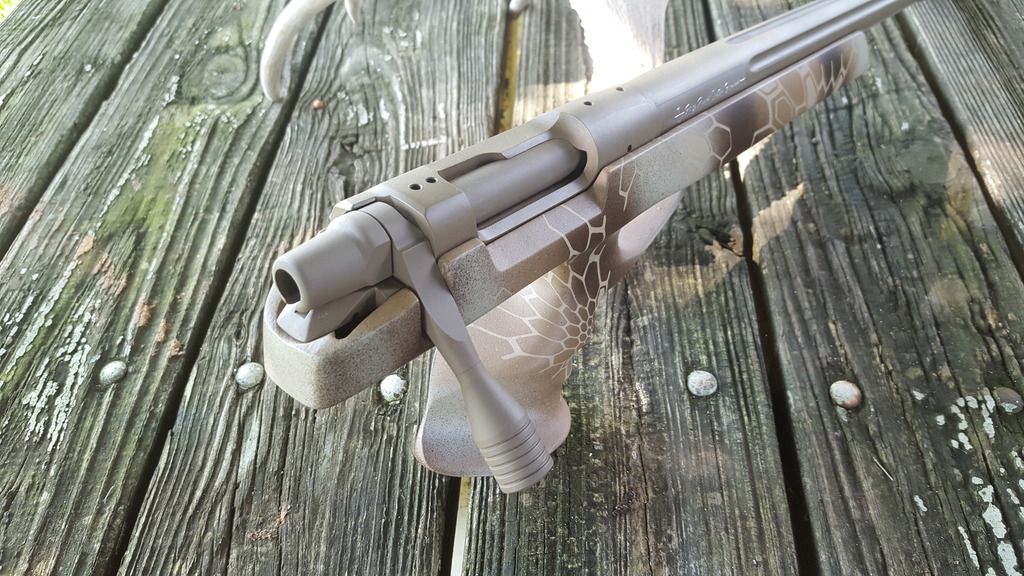 She'll be ready for range report here in the very, near future! Stay tuned for further on her. We have a couple of more builds lined up for you guys as well, stay tuned!!
July 21, 2016, 12:37 PM
mark hampton
Very nice looking XP -- well done!
July 21, 2016, 01:07 PM
tgp
Beautiful Build Jeremy!!
Glenn


------------------------------
"Evil, unchecked, is the prelude to genocide. - Anonymous"
― Joel C. Rosenberg, The Auschwitz Escape



July 21, 2016, 02:29 PM
40xmike
Jeremy,
Very nice work
-Mike
July 21, 2016, 03:27 PM
daricd
Man she's looking really good! Cannot wait to see how she performs! Always had a soft spot for the 6.5 rem mag and cannot wait to see how it stacks up to the other 6.5's I have seen built. Thank you Jeremy for helping with this build and all you've done to make it reality!
July 21, 2016, 04:44 PM
Smokin7mm
Very Nice.
Bret


IHMSA #49266
PBRC match director
IHMSA Washington State Director
July 21, 2016, 04:49 PM
Leupold Man
That's a really nice XP! Thanks for sharing!!


---------------------------------
Veteran and NRA Life Member
July 21, 2016, 05:21 PM
junebug
Nice work Jeremy. What kind of trigger is he going to run? I have a Competitor pistol chambered in 6.5Rem Mag .It likes the 123 gr Hornady and the 140 gr Rem. sp bullets.
July 21, 2016, 09:33 PM
Da-Law-Dawg
Thanks everyone!!
Daric, been a pleasure my friend!! Been a fun build and looking forward to seeing you get her out my friend.
Junebug, he'll be running the factory trigger in this one. After she's worked over, of course!
July 21, 2016, 10:59 PM
nmhunter
Now that XP will make you
drool
Excellent
When are going to test fire it?
Nmhunter
July 21, 2016, 11:05 PM
Da-Law-Dawg
quote:

Originally posted by nmhunter:

Now that XP will make you

drool

Excellent

When are going to test fire it?

Nmhunter
Thanks NM!! Bedding is curing now. Test fire coming up shortly!
July 22, 2016, 01:53 PM
TXBRASS
Beautiful work as always!
CW
**********************
Get your W-GEAR shooting accessories NOW!
SP Scabbards, Rear Rest Bags, Ammo Bracelets, Front Rest Bags, & more...
Made in USA with a LIFETIME warranty!
www.codyweiser.com
- SHORT STICK BANG GANG -
July 23, 2016, 10:02 PM
Da-Law-Dawg
Update, test fired the rig with H-4350 and the 143gr Hornady ELD-X. The big Ross brake works WELL! Test loads are getting worked up and we'll have a range report here before long folks!
July 24, 2016, 11:07 AM
17VLD
Very nice work,came out great,bet it shoots very well.
Bet the brake tames that beast very well.Can't wait to see some groups or varmints shot by that S.P.
Matt


------------------------------
NRA BENEFACTOR MEMBER
VHA LIFE MEMBER
IBS MEMBER
July 31, 2016, 05:37 PM
Da-Law-Dawg
She's a shooter folks, ran the 143 ELD-X thru her and she is getting her done!!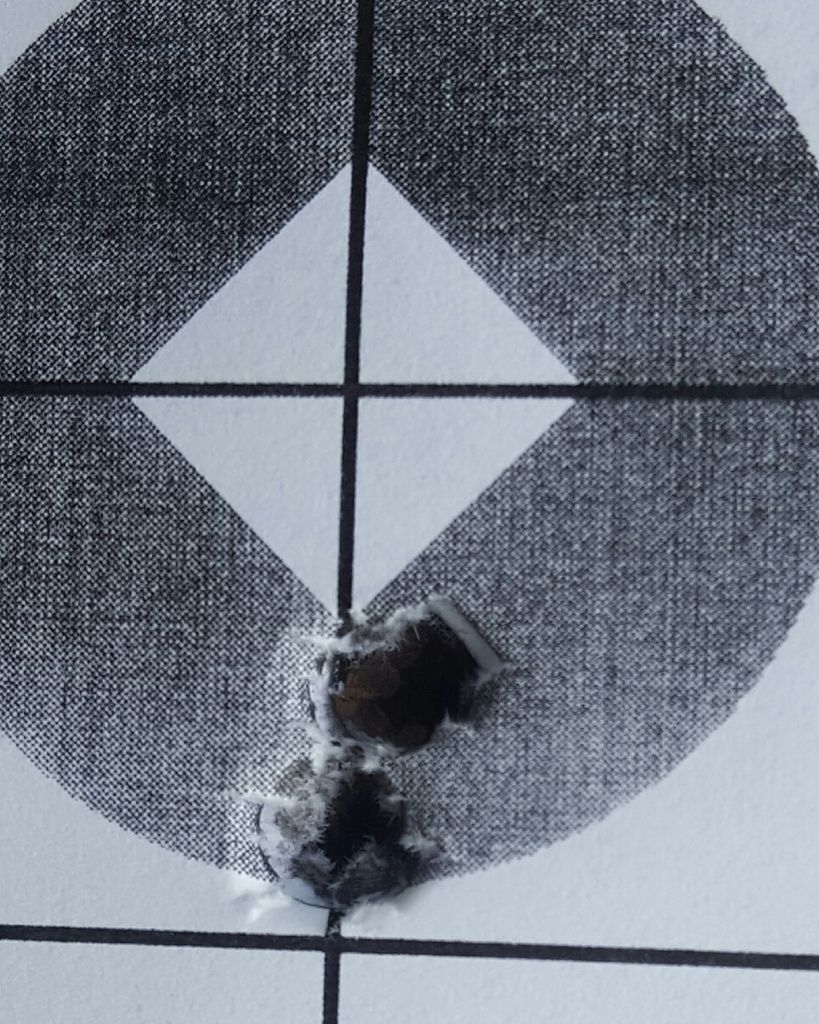 Slow motion video of the big 5 port Ross brake in action.....
August 01, 2016, 11:18 PM
Rog (Buttermilk421)
Nice! Looks like that Big Ross works very well. That prompts me to get one ordered.


Regards,
Rog (Buttermilk421)



August 02, 2016, 02:28 AM
Da-Law-Dawg
quote:

Originally posted by Rog (Buttermilk421):
Nice! Looks like that Big Ross works very well. That prompts me to get one ordered.
Rog, I was impressed how well it worked. The 6.5 Rem Mag is definitely not a slouch. She moved very little with the Ross installed.
August 02, 2016, 10:19 AM
40xmike
DLD
That will do just fine
Well done!
-Mike