PaMike had a great hunt on my farm this year. An 18" 8 point and a 4 point.
After he left I decided I want to do something different with a weapon to take one of my deer. I took 59 deer this summer on permits using two different .375/.284 XPs, a 6.5/.284 XP, a .325 WSM XP, a .338 Mag JDJ Encore, and a .250 Sav. AI XP. I wanted a change of pace.
What better way to do that than to get out my .300 Whisper that JD made for me many years ago. It's cool to be quiet and not disturb other game( I've never fired a supersonic round out of it. Doesn't seem right. That would make it a .300 Screamer).
Wouldn't you know it, the day I picked to use it was not friendly. The morning started out cool & cloudy. By noon the skies were ugly grey, the rain started, then serious wind started. I figured I was screwed.
I couldn't believe it when a 8 point came out in the field eating grass. The wind & rain were about horizontal! Then a 6 point came out! Then 2 does & a fawn! This was crazy. I'd never seen deer come out in this kind of weather.
I started getting serious. They were a ways off. I'd had a 240 gr. Sierra HPBT Match in the Whisper, but my past experiences told me to change it with a 220 gr. Sierra RN. It's been my old standby for years taking over 100 groundhogs, 3 turkeys, and 100+ deer.
The rain & wind slowed a little, but was still 10+ mphs. I figured what the heck. Try it. Maybe I could wound the 8, slow it down, and sneak up for a finisher. The rest in my blind was very steady. I ranged the buck again & put the right mildot on his shoulder.
I was beyond shock when I pulled the trigger. He dropped in his tracks!! I reloaded quickly, but there was no movement. Oh, yeah, the distance. 243 yards!!!!!!!!!!! The first buck I've Whispered. THis whole situation was beyound crazy.
When I got to the buck I tried to set up my camera for a pic. It only has a 10 second delay. Several times it was blown off my Bog Pod PSR, plus it was still raining. I finally gave up and just took a photo of the deer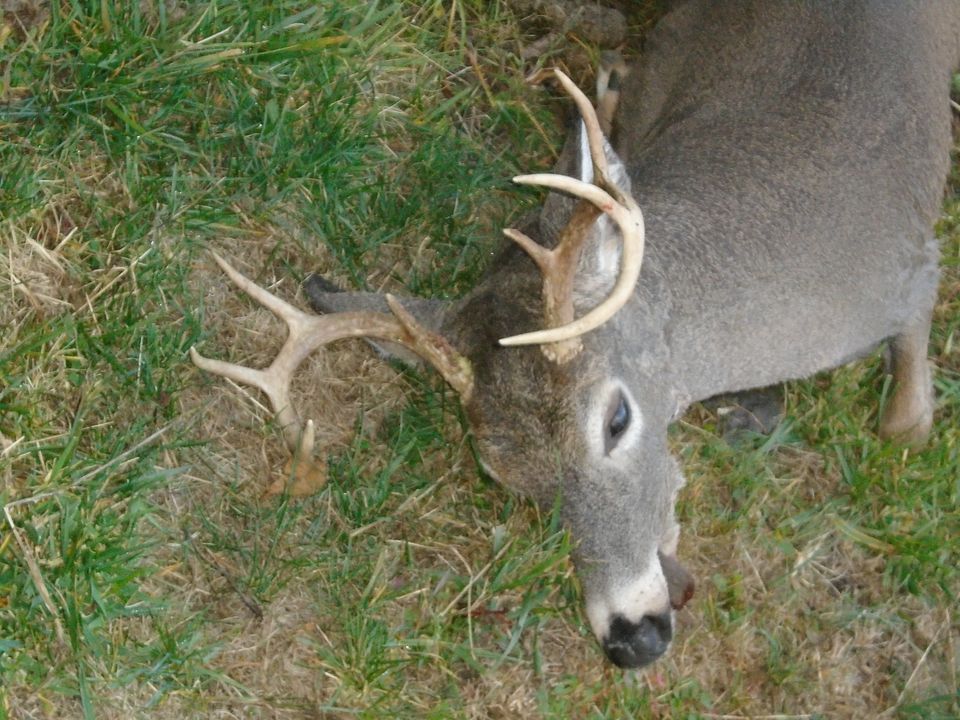 The outcome here only reenforces my recommendations of the 220 gr. RN. I tried & I've seen companies and other hunters recommend 220 gr. Sierra HPBT Match. I did it and they DON'T work. They kill deer, but the deer go a long ways & subsonic bullets rarely leave a blood trail.
I'm also wondering about the Hornady Whisper bullet with the cute red tip. I shot a few and they were so far off from my 220 RNs that I'd have to resight my gun. I'm very resistant to change when I find something that works extremely well.
I was very pleasantly surprised at the performance of this stubby bullet at that distance in the wind. The bullet was in the deer. It hit high shoulder and showed about 1 1/4" of internal damage. One rib was punctured with some bone fragments. I'm certain spinal shock caused the outcome of this very slow bullet.
The rain prevented me from doing more.